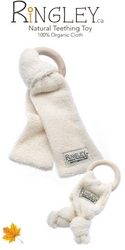 "Gnawing on the crib rails and wash cloths seemed to be the only thing that my child was drawn to when teething," says Shaindy Alexander, creator of RiNGLEY. "I was always concerned about what chemicals and toxins she was ingesting."
Toronto, ON (PRWEB) September 15, 2010
One of the hardest things a parent will ever have to do is to help their child through teething. The screaming. The pain. The sleepless nights. It can be hard on both child and parent. That's where RiNGLEY comes in.
The all-Canadian and award-winning company was started three years ago by a mother of two teethers whose search for an all-natural and soothing teething solution ended empty-handed.
"Gnawing on the crib rails and wash cloths seemed to be the only thing that my child was drawn to when teething," says Shaindy Alexander, creator of RiNGLEY. "I was always concerned about what chemicals and toxins she was ingesting."
Having already won accolades for their first four products, RiNGLEY is set to take the teething product world by storm once again with its latest innovation, the sun.
Like all RiNGLEYs, the sun is made with 100 per cent certified organic cotton terrycloth, an effective and safe surface for babies to teeth on.
It's also made with untreated Maple wood – which is renowned for its antibacterial properties and is one of the strongest and safest types of wood for children to suck on sans splinter.
Babies are quickly drawn to the sun because of its warm grippable shape and friendly face. It also gives teethers a number of textures and options to chew on; it's made with Velcro, making it easy for parents to machine wash; and, like all RiNGLEYs, it's dye and BPA-free and contains no PVC or parabens.
RiNGLEY teethers are the pre-eminent way to get your baby through teething time – safely and in style.
For more information, interview requests or high-res photography, please contact:
Shaindy Alexander at 416-471-6468 or 4ringley(at)gmail(dot)com.
About RiNGLEY:
Founded by Shaindy Alexander in 2007, RiNGLEY is a Canadian-made, all-natural teether using Maple wood and 100 per cent organic terrycloth. They're the original and eco-friendly solution to help teething babies and toddlers soothe their aching gums and mouths. Available in over 400 stores across North America and in 12 countries around the world, the various models retail from $16. The award-winning products have passed all North American and European safety standards. To find a local retailer near you, or for more information, visit http://www.ringleynaturalteethingtoys.com .
###