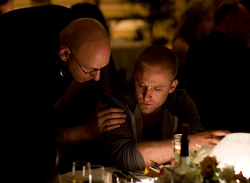 Story goes to the heart of what our industry will always need -- no matter how the technology changes and advances
Sarasota, FL (Vocus) March 6, 2010 –
Ringling College of Art and Design today announced that it will host visiting director and writer Oren Moverman and actor Ben Foster this month as part of the College's Digital Filmmaking Studio Lab program.
Moverman and Foster will work with Ringling College Digital Filmmaking students as part of the Lab's collaborative orientation toward driving direct creative interaction between students and film industry luminaries.
Moverman and Foster recently worked together on 'The Messenger', which has received two Academy Award nominations – Best Original Screenplay (Moverman co-wrote the film) and Best Supporting Actor (Woody Harrelson.) The duo will work with students on campus on Thursday, March 24th, with a press briefing planned for 2 p.m. at the Ann and Alfred Goldstein Center.
At 7:30 pm that evening, the Sarasota Film Society will offer a free showing of Mr. Moverman's Bob Dylan biopic 'I'm Not There' as part of the ongoing 'Ringling Reels and Retrospectives' series at Burns Court Cinema. On Friday, March 25th at 10pm the Film Society will screen Ben Foster's 'Pandorum'. The screenings are co-sponsored by the Sarasota County Film Commission and are free and open to the general public.
Mr. Moverman's expertise as a writer and director aligns well with the foundation of the Digital Filmmaking Studio Lab's focus on 'Story' as the cornerstone of filmmaking. Story drives everything in film – the script, production design, directing, cinematography, editing, marketing, etc.
"Story goes to the heart of what our industry will always need -- no matter how the technology changes and advances," said Ringling College Digital Filmmaking Department Head Bradley Battersby "Just as it is today with current industry leaders like Jim Cameron, Steven Spielberg and Brad Bird, the best storytellers are destined to be the future leaders of our art and industry. At Ringling our focus is on teaching to create great story and then reinforcing it with the best production tools, techniques and technologies available to bring these stories to life."
The Ringling College Digital Filmmaking Studio Lab, launched this past January in association with Future Films, LLC, brings some of the world's most renowned filmmakers, producers and film industry leaders to Sarasota to work collaboratively with Ringling students on learning the process of motion picture and television development. Industry luminaries that have lectured as part of the Digital Filmmaking Studio Lab include director Werner Herzog, who inaugurated the Lab in January, and producer Paul Schiff, who screened his new film starring Michael Douglas, 'Solitary Man,' for students and donors. Ringling College President Larry Thompson and Producer Paul Schiff recently discussed the Digital Filmmaking Lab on air with SW Florida National Public Radio News Manager Amy Tardif. The interview is accessible at http://wgcu.org/audioplayer/6665.aspx.
The College is raising funds to finance film projects through the Digital Filmmaking Studio Lab Development Fund, proceeds of which will be used to fund a soundstage for the campus and for the creation of original scripts as well as purchasing the rights to promising screenplays, books and other creative writings which have the potential to become the basis for a film or TV production.
For more information on the program, including signing up for program updates, please go to http://www.ringling.edu.
About Ringling College of Art and Design
Ringling College of Art and Design is a private, not-for-profit, fully accredited college offering the Bachelors of Fine Arts degree in 13 disciplines: Advertising Design, Computer Animation, Digital Filmmaking, Fine Arts, Game Art & Design, Graphic & Interactive Communication, Illustration, Interior Design, Motion Design, Painting, Photography & Digital Imaging, Printmaking and Sculpture, and a Bachelor of Arts degree in the Business of Art & Design. Located on Florida's Gulf Coast, the picturesque 47-acre campus now includes more than 100 buildings, and enrolls 1,320 students from 46 states and 46 countries. It is recognized as being among the best and most innovative visual arts colleges in the United States as well as a leader in the use of technology in the arts. http://www.Ringling.edu
About Future Films LLC
Future Films leverages unique opportunities in media production and content as the old models rapidly change, focusing on convergences between traditional and new media. Co-founders Sam Logan and David Shapiro are bringing to bear their extensive relationships in the film and TV industry to provide for rapid development of the Ringling Filmmaking Lab, a groundbreaking project that combines education with film development. The Lab program is designed to allow Ringling College of Art and Design students to have hands-on experience with top-tier directors, producers, writers, and cinematographers as well as help Sarasota become an integral part of the film industry.
Contacts:
Media:
Rich Schineller
941.780.8100
rich(at)prmgt(dot)com
Ringling College:
Christine Meeker Lange
941.302.2769
clange(at)ringling(dot)edu
###