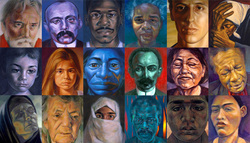 Sarasota, FL (Vocus) May 15, 2010
Ringling College of Art and Design today announced that Illustration Department faculty member Patrick Fiore is presenting three significant events honoring the voices of people and the promise of creativity free to the public May 20 through May 23rd.
'Significant Souls' is an exhibition of paintings by Patrick Fiore inspired by Howard Zinn's 'A People's History of the United States 1492 – Present' that will be opening on Thursday, May 20, from 5 - 7 PM, with the exhibit running from May 20 to July 3, 2010 at Art Center Sarasota. Patrick Fiore has been a faculty member of the Department of Illustration at Ringling College of Art and Design since 1988. He has created approximately 100 paintings organized into twenty-five passages based on Howard Zinn's contemporary classic to internalize American history and depict an under-represented perspective of American life. As a work in progress, the collection will travel to college and university galleries as well as installations open and accessible to the public. The paintings aim to draw the viewer, especially young people, into their history, relating what it means for their future and to move people to action while encouraging the viewer to question, think, act and express their own truth, in their own way.
'Voices of Resistance, Moments of Compassion' is a visual and performing arts presentation on Friday, May 21st at 7:30 PM at the Diane Roskamp Exhibition Hall at the Ringling College of Art and Design. The performance combines a reenactment of Frederick Douglass by Chautauqua performer and anthropologist Charles Everett Pace with readings by Booker High School VPA students from 'Voices of the People's History of the United States'(by Howard Zinn and Anthony Arnove) and modern dance, art projection and songs of resistance and persistence.
'The People's Story: Rebuilding Pride and Purpose through the Arts' is a panel discussion on Sunday, May 23 at 1:30 PM at the Academic Building Auditorium at Ringling College of Art and Design. The discussion will encompass history, heritage, education, community and economic development focusing on the visual and performing arts as an interpreter of history and culture. Panelist include Dr. Uzi Baram, Associate Professor, Anthropology, New College; Daniel Bright , Faculty at Booker High School VPA and Ringling College; Patrick Fiore, Illustration Department Faculty, Ringling College; Charles Everett Pace, founding member of The National Chautauqua Tour; and Carolynne Whitefeather, artist, educator and Director of Barrett Fine Art Gallery at Utica College. The discussion will be moderated by Dr. Douglas Chismar, Liberal Arts Program Director at Ringling College.
Patrick Fiore, creator of these three symbiotic events, stated that, 'It is imperative that the visual, written and performance arts introduce children to the critical thinking required for their development as thinkers and expressive participants in contemporary society. We have assembled these three events to provide a foundation for discovery and discussion of the critical value the visual and performing arts play in forming a foundation for creative problem solving in a world with many challenges ahead."
All three events are free and open to the public. Event details follow with date, time, address, participant and contact information.
'Significant Souls' an exhibition of paintings by Patrick Fiore
Inspired by Howard Zinn's A People's History of the United States 1492 - Present
Opening: Thursday, May 20, from 5 - 7 PM
Exhibit runs from May 20 – July 3, 2010
Art Center Sarasota, 707 North Tamiami Trail, Sarasota, FL 34236
(941) 365-2032
Gallery Hours: Tuesday to Saturday 10am to 4pm. Closed on Sunday and Monday
http://www.patrickfioreonline.com
'Voices of Resistance, Moments of Compassion' A Visual and Performing Art Presentation.
Reenactment of Frederick Douglass by Chautauqua performer and anthropologist Charles Everett Pace.
Readings by Booker High School VPA from 'Voices of the People's History of the United States' by
Howard Zinn and Anthony Arnove.
Modern dance, art projection and songs of resistance and persistence.
Friday, May 21, 7:30 PM, Diane Roskamp Exhibition Hall, Ringling College of Art and Design, 2700 N. Tamiami Trail, Sarasota, FL (941) 359-7521
'The People's Story: Rebuilding Pride and Purpose through the Arts'
Panel Discussion encompassing History / Heritage / Education / Community / Economic Development

the visual and performing arts as interpreter of history and culture
content driven creativity and application through collaboration with the artist/entrepreneur (production of
educational materials/venues)

exploration of community historical and cultural resources through the visual and performing arts
to develop creative solutions for local economies partnered with educational experiences for young learners,
reinforcing pride and discovery of heritage
Panelists:
Dr. Uzi Baram, author, archeologist; Associate Professor, Anthropology, New College, Sarasota, FL
Daniel Bright , actor, director; faculty, Booker High School VPA and Ringling College of Art and Design
Patrick Fiore, artist, activist, faculty, Ringling College of Art and Design
Charles Everett Pace, anthropologist, performer,educator;17 year veteran of The Great Plains Chautauqua Society, Inc; founding member of The National Chautauqua Tour, Texarkana, Texas
Carolynne Whitefeather, visual artist, educator; Director, Barrett Fine Art Gallery, Utica College, Utica, NY
Moderator:
Dr. Douglas Chismar, extensive record as presenter/leader of interdisciplinary studies and ethics across the curriculum programs; .Liberal Arts Program Director, Ringling College of Art and Design, Sarasota, FL
Sunday, May 23, 1:30 PM, Academic Building Auditorium: Ringling College of Art and Design, 2700 N. Tamiami Trail, Sarasota, FL (941) 359-7521
About Ringling College of Art and Design
Ringling College of Art and Design is a private, not-for-profit, fully accredited college offering the Bachelors of Fine Arts degree in 13 disciplines: Advertising Design, Computer Animation, Digital Filmmaking, Fine Arts, Game Art & Design, Graphic & Interactive Communication, Illustration, Interior Design, Motion Design, Painting, Photography & Digital Imaging, Printmaking and Sculpture, and a Bachelor of Arts degree in the Business of Art & Design. Located on Florida's Gulf Coast, the picturesque 47-acre campus now includes more than 100 buildings, and enrolls 1,320 students from 46 states and 46 countries. It is recognized as being among the best and most innovative visual arts colleges in the United States as well as a leader in the use of technology in the arts. http://www.Ringling.edu
Media Contacts:
Rich Schineller
941-780-8100
rich(at)prmgt(dot)com
Patrick Fiore
941-726-1323
pfiore(at)c(dot)ringling(dot)edu
# # #