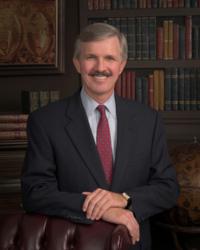 Michael is joining the Ringling team at a perfect time to work with us in achieving our destiny – for the college, our students and the community
Sarasota, FL (PRWEB) September 06, 2012
Ringling College of Art and Design today announced the appointment of Michael E. Moore to the position of Vice President for Advancement for Ringling College. Michael has more than 25 years of experience in organizational management and fund development. Prior to his appointment at Ringling College, Michael spent the past two and a half years on the University Relations leadership team at the University of California at Santa Cruz (UCSC), serving as interim Associate Vice Chancellor for Strategic Philanthropy and Constituent Engagement as well as guiding the university's $300 million comprehensive campaign.
"I am pleased to be joining Ringling College at this important moment in its history," stated Michael. "I believe in donor-centered fundraising and am delighted that I can combine my love for art with my passion for finding ways to help people give meaning to their philanthropy through support of arts education. I look forward to partnering with President Larry Thompson, a generous board and a talented staff to advance the mission of the college and to bring its vision to fruition."
Before UCSC, Mr. Moore was a partner and principal of Millennium Advantage, providing counsel on fund development, strategic planning, board leadership development and charitable giving programs. Prior to Millennium, Michael achieved significant goals for Sutter Health in Northern California and Harvard Medical School-affiliated hospitals in Boston. Over his career in fund development Michael has generated more than $250 million in philanthropic funding for higher education, health and human services, and the arts.
"Michael is joining the Ringling team at a perfect time to work with us in achieving our destiny – for the college, our students and the community," said Ringling College President Dr. Larry R. Thompson. "His exemplary experience and knowledge comes to us at a time of great future potential for the college as we continue to build upon our success to date in educating and preparing our award-winning students to be leaders in the art and design professions and helping to change our rapidly-evolving world. The timing of Michael's appointment and his experience in community and corporate development along with the rising stature of Ringling represents a confluence of positive attributes akin to 'A Perfect Storm.' The Ringling College Board of Trustees and I welcome Michael with great anticipation and look forward to his contribution in achieving our mutual goals."
Michael earned a Master of Arts degree in Philanthropy and Resource Development from Saint Mary's University of Minnesota and is a Fellow of the Association of Healthcare Philanthropy (AHP) and also served as Board Chairman for the AHP. He was also on the faculty of the Madison Institute at University of Wisconsin and wrote monthly articles about trends and issues in the field. Michael speaks at conferences throughout North America and Australia and as well a being widely published is also the author of "Blueprint for Success," a capital campaign workbook as well as the co-author of A Healthcare Paradigm: Predicting Change for Healthcare and Philanthropy.
He is a Past President of the California Capital Chapter of the Association for Fundraising Professionals (AFP), was named his AFP chapter's 2005 Outstanding Fundraising Professional and served a three-year term on the national AFP Foundation Board of Directors. On the community service front, Michael has also served on the boards of Rotary (as President), the United Way and the symphony. He was honored as "Man of the Year" by a prominent Sacramento area civic organization and was awarded a Paul Harris Fellow for extraordinary service to his Rotary Club.
About Ringling College
Ringling College of Art and Design is a private, not-for-profit, fully accredited college offering the Bachelors of Fine Arts degree in 13 disciplines: Advertising Design, Computer Animation, Digital Film-making, Fine Arts, Game Art & Design, Graphic & Interactive Communication, Illustration, Interior Design, Motion Design, Painting, Photography & Digital Imaging, Printmaking, and Sculpture, and a Bachelor of Arts degree in the Business of Art & Design. Located in Sarasota on Florida's Gulf Coast, the picturesque 48-acre campus now includes more than 110 buildings, and enrolls 1,368 students from 42 states and 53 countries. It is recognized as being among the best and most innovative visual arts colleges in the United States as well as a leader in the use of technology in the arts. http://www.Ringling.edu