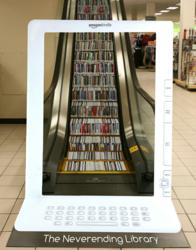 Personal attention and collaborative opportunities help our students develop as ad creatives more quickly. Ringling freshman, juniors and sophomores won a total of 24 local, 3 district and 3 national ADDY Awards this year.
Sarasota, FL & San Diego, CA (PRWEB) June 09, 2011
Ringling College of Art and Design today announced that three Ringling College students received 2011 National ADDY Awards. The world's largest advertising competition, the ADDY® Awards is run by the American Advertising Federation (AAF) and represents the true spirit of creative excellence by recognizing all forms of advertising from media of all types, creative by all sizes, and entrants of all levels from anywhere in the world.
Receiving their awards at the National Awards Show and Gala on June 4 at the Hilton San Diego Bayfront Hotel were Ringling College students Alex Terry who won for his "Don't Text & Drive" print campaign (Gold ADDY Award); Ann Putney for her 'Amazon Kindle Escalator' campaign (Gold ADDY Award); and Corey Meade for 'Teddy & The Nuge' (Silver ADDY Award).
"Winning two Student National Gold ADDY's is very exciting for our Advertising Design program, its faculty and students," said Ringling College of Art and Design Advertising Design Program Coordinator David Foote. "Our Ad Design program provides students with personal attention and collaborative opportunities to help them develop as ad creatives more quickly. As a result, the ADDY® Awards our students won this year, including 24 local, 3 District – including Best of Show – and now two National Student Gold and one Silver ADDY, were all won by freshman, sophomores, and juniors. I am very proud of all our students and Ringling Advertising Design faculty member Vivian Owen, who helped guide them in creating so much award-winning work."
Alex Terry's "Don't Text & Drive" print campaign illustrates the consequences of texting and driving in a particularly arresting manner. Ann Putney's 'Amazon Kindle Escalator' campaign showcases the wide variety and selection of electronic book titles available for the Amazon Kindle eReader, and Corey Meade's 'Teddy & The Nuge' data visualization comparing two great Americans - Theodore Roosevelt and Ted Nugent.
The AAF Student ADDY Awards Competition is a unique national awards program designed especially for college students. Work entered at local levels can move up to the regional and national judging, just like the work entered by professionals across the country. Applicants must be enrolled full- or part-time in an accredited U.S. educational institution.
About Ringling College of Art and Design
Ringling College of Art and Design is a private, not-for-profit, fully accredited college offering the Bachelors of Fine Arts degree in 13 disciplines: Advertising Design, Computer Animation, Digital Filmmaking, Fine Arts, Game Art & Design, Graphic & Interactive Communication, Illustration, Interior Design, Motion Design, Painting, Photography & Digital Imaging, Printmaking and Sculpture, and a Bachelor of Arts degree in the Business of Art & Design. Located on Florida's Gulf Coast, the picturesque 47-acre campus now includes more than 100 buildings, and enrolls 1,320 students from 46 states and 46 countries. It is recognized as being among the best and most innovative visual arts colleges in the United States as well as a leader in the use of technology in the arts. http://www.Ringling.edu
###