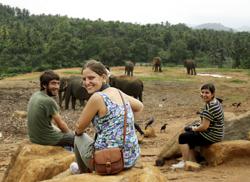 Every day we will reflect together in front of the camera upon what we've learnt and talk directly to the audience so that they become part of our journey of discovery and understanding
Sarasota, FL and Sri Lanka (PRWEB) July 17, 2012
Ringling College of Art and Design students Javier Lorente of Madrid, Spain; Veronica Echeverria of Caracas, Venezuela and Ximena Castro of Melo, Cerro Largo, Uruguay today announced the launch of their 'See Lanka' Project for Peace.
'See Lanka' was made possible due to the receipt of a Kathryn W. Davis 'Project for Peace' award designed to facilitate 'unleashing the potential of youth in the cause of peace.' Kathryn W. Davis endowed the award on the eve of her 100th birthday. Kathryn is the mother of Shelby Davis, whose Davis Scholarship program also provided scholarships for Ximena and Javier to attend Ringling College after graduating from United World Colleges in Italy and Costa Rica, respectively.
"My mother, Kathryn W. Davis, created the 'Project for Peace' awards four years ago to leverage the creative abilities of today's students to foster understanding among differing cultures," said Shelby Davis, founder of Davis Selected Advisers and creator of the Davis United World College Scholars program for United World College students. "We are excited to witness the difference these young people make – year after year – through applying their knowledge and fresh outlooks to forward the concepts and principles of peaceful coexistence through clear and direct communication."
Ximena, Veronica and Javier created the 'See Lanka' project to film a running documentary that will promote cultural understanding, kindness and peace by communicating their immersion in Sri Lankan society and transmitting their experience from within. 'See Lanka' explores in depth different aspects of Sri Lankan society to facilitate insight from an insiders' point of view and will initially focus on:

The aftermath of the civil war, its effect on child soldiers and their families and how it has affected the way they see the world.
Education and its power to promote peace and understanding.
The role of women in the creation of a sustainable future.
Religion as a structural base of society and the effect it has on the individuals.
To follow the 'See Lanka' project, please go to http://seelanka.tumblr.com/ or you can 'like' their FaceBook page at http://www.facebook.com/seelanka2012. To view the first episode of the evolving documentary, please go to http://seelanka.tumblr.com/post/25243194775/episode1.
The 'See Lanka' team will produce approximately 8 episodes while in Sri Lanka. Ximena Fernandez Castro recently graduated from Ringling College with a major in Digital Film and BOAD (Business of Art and Design) minor, Veronica Echeverria is a senior in the Ringling Digital Film program, and Javier Aparicio Lorente is a Ringling junior majoring in Motion Design with a minor in Fine Art.
"Every day we will reflect together in front of the camera upon what we've learnt and talk directly to the audience so that they become part of our journey of discovery and understanding," said Ximena Castro. "Education in Sri Lanka is viewed as sacred and we would like to support this belief through sharing our knowledge through See Lanka and in-country workshops. We will also work on helping students get back to school as this is one of the main problems at the moment."
Ximena, Veronica and Javier created 'See Lanka' in collaboration with the Foundation of Goodness, an organization that works to empower less-privileged rural communities to create a sustainable community template. 'See Lanka' will also develop workshops and assist in the activities carried out by the Foundation which is the basis of the documentary process to which audiences will relate to, and be motivated by. They are shooting their project on two Canon 60D's and one Canon T3i and are editing the project on Adobe Premiere.
"Ximena, Veronica and Javier are all wonderful student leaders who deeply care about bringing together the diversity of different cultures for the common good in order to make the world a better place," said Tammy S. Walsh, Ed.D., Vice President for Student Life and Dean of Students at Ringling College of Art and Design. "They truly embody Kathryn Davis' vision of world peace, and this wonderful project is evidence of their commitment. We are honored and deeply grateful for their selection as participants in the Davis Projects for Peace program."
Ringling College of Art and Design is a private, not-for-profit, fully accredited college offering the Bachelors of Fine Arts degree in 13 disciplines: Advertising Design, Computer Animation, Digital Film-making, Fine Arts, Game Art & Design, Graphic & Interactive Communication, Illustration, Interior Design, Motion Design, Painting, Photography & Digital Imaging, Printmaking, and Sculpture, and a Bachelor of Arts degree in the Business of Art & Design. Located in Sarasota on Florida's Gulf Coast, the picturesque 48-acre campus now includes more than 110 buildings, and enrolls 1,368 students from 42 states and 53 countries. It is recognized as being among the best and most innovative visual arts colleges in the United States as well as a leader in the use of technology in the arts. http://www.Ringling.edu