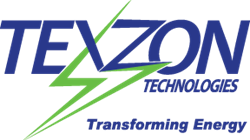 The RPM will be a critical component for increasing the amount of green energy through electricity storage on our power grids
(PRWEB) June 30, 2014
Texzon Technologies, LLC (TEXZON), an energy company, today announced that the United States Patent and Trademark Office has issued U.S. Patent No. 8,629,734 for the Ring Power Multiplier (RPM), a power conditioning and energy storage device. This is the fifth patent for the NASA-tested technology that offers continuous, instantaneous power protection, a breakthrough solution for worldwide grid stability by virtue of its ability to store AC power. Additional patents are pending.
Texzon Technologies has exclusive worldwide marketing rights for the RPM technology, invented by Dr. James Corum, renowned scientist and physicist.
"This technology is a game-changer. The ability of the RPM to clean (eliminate all harmonics), magnify power, and store energy as a traveling electro-magnetic wave enables it to react instantaneously as a continuous 'elastic reservoir,' which is an innovative and timely solution for Smart Grids," said Brigadier General (Retired) Michael W. Miller, CEO of Texzon. "The RPM will be a critical component for increasing the amount of green energy through electricity storage on our power grids. Dr. Corum has pioneered a remarkable technology."
This new architecture allows for almost unlimited expandability for solar cell/inverter, battery/inverter or fuel cell/inverter storage systems with its active component implementation. One of the most notable benefits of the RPM is in the conversion of variable AC or DC power sources (solar, wind, battery and fuel cell) into constant voltage and frequency AC. It allows for almost unlimited expansion through the addition of more same-size inverters. In large inverter systems, the simplification of switchgear required for installation would greatly lower operating and maintenance costs.
About James Corum, Inventor:
Dr. Corum was cited as a "National Treasure" by The Office of the US Secretary of Defense for his work on the DARPA National Panel of Radar Experts on Ultra-Wideband Radar and Phenomenology. His electromagnetic research has been recognized by prestigious scientific organizations and professional societies around the world.
About Texzon Technologies:
Texzon Technologies (TEXZON) an energy company, was formed to explore and develop new technologies related to energy transmission and storage.
Texzon Technologies is actively working to address the following global challenges:

1 in 4 people have no access to electricity yet global demand is rising.
Investment of $10 trillion (T) in power-sector infrastructure required ($4.6T Power Generation; $5.4T Transmission & Distribution) to meet demand.
Global concerns abound regarding climate change and pollution reduction
Weather issues cause major power failures/disturbances with current power grid structure
Grids regionally, nationally and globally are not linked or networked; no energy synergy