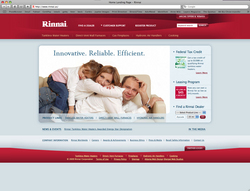 In developing the new site, we worked to maximize its functionality for every possible audience--our potential customers, our dealers, our internal teams and the press
Peachtree City, Ga. (Vocus) March 18, 2009
Rinnai America Corporation recently launched a new television advertisement as well as a revamped Web site as part of a consumer education campaign designed to teach consumers about the benefits of tankless water heaters. The company's new commercial positions traditional tank-style water heaters as energy wasting appliances, while the upgraded Web site (http://www.rinnai.us)] features detailed tankless water heater benefits and purchasing information in an easy-to-understand format, arming consumers with the tools necessary to choose the right Rinnai product for their individual needs.
"Most consumers in North America are unfamiliar with tankless water heaters, so we realized that we have the perfect opportunity to educate consumers about the benefits of tankless water heater technology and why Rinnai is the best choice for them," said Phil Weeks, general manager of Rinnai America Corporation. "Our education efforts consist of a two-step process. First, the commercial reaches out to consumers and makes them aware of a household problem--that tank-style water heaters waste energy--then it directs consumers to our Web site, where they can find detailed information about the energy-saving and lifestyle-improving aspects of Rinnai's tankless water heaters."
The new TV spot is designed to highlight the inefficiency of tank-style water heaters, which heat water even when you are not using it, by likening the use of traditional tank technology to the absurd idea of leaving other appliances constantly running when they are not being used. Rinnai accomplishes this goal by chronicling a woman's morning routine as she gets ready to leave for work. As the audience follows her movements, it becomes clear that all of the appliances at her house are on, including her alarm clock, TV, hairdryer, blender and lawnmower, and she makes no effort to turn them off. The spot then cuts to a shot of a tank-style water heater, associating traditional tank technology with the wastefulness portrayed in the previous scene. The spot closes with shots of a modern Rinnai tankless water heater and a continuously hot shower with the Rinnai logo and Web address, so consumers know to visit http://www.rinnai.us for additional information about Rinnai.
The commercial is currently airing nationwide on HGTV in connection with Rinnai's support of the HGTV Dream Home 2009, and it will subsequently be shown on additional channels in the coming months.
Like the commercial, Rinnai's new, streamlined Web site is designed to educate consumers and offers an enhanced online experience for both consumers and dealers. By consolidating information previously housed on multiple Rinnai sites into one simple-to-navigate location, http://www.rinnai.us, Rinnai has made it easier for consumers to understand tankless water heater technology as well as the rest of the company's product portfolio including its direct vent wall furnaces, gas fireplaces, hydronic air handlers and cooking appliances.
"Online research plays a huge role in the home products purchasing process, so we took great care to make the new Rinnai Web site very informative and consumer-friendly," said Kelly Matheny, Rinnai's e-business manager. "We're thrilled with the success of the launch so far."
The new Rinnai site features a contemporary, uniform design that reflects the Rinnai brand, detailed product information, a dealer locator and a calculator for determining which Rinnai tankless water heater model is appropriate for a specific home; plus, consumers can sign up to have a Rinnai registered dealer contact them regarding product installation. A separate section of the site promotes special offers, rebates and incentives that are available to consumers and includes information about the company's leasing program, while an online press room contains the latest Rinnai news as well as recent media clips featuring Rinnai products. The site also houses a robust customer support section that is designed to assist in resolving product issues by connecting customers with Rinnai's 24-hour call center and providing a list of nearby Rinnai registered service providers.
"In developing the new site, we worked to maximize its functionality for every possible audience--our potential customers, our dealers, our internal teams and the press," said Matheny. "The site redesign, in conjunction with our new commercial, is having a definite impact on how consumers view Rinnai, and we look forward to seeing the positive effects these efforts will have on the rest of our business."
For more information, visit http://www.rinnai.us.
About Rinnai
Rinnai America Corporation, a subsidiary of Rinnai Corporation in Nagoya, Japan, was established in 1974 and is headquartered in Peachtree City, Ga. Rinnai Corporation manufactures gas appliances, including tankless water heaters, a wide range of kitchen appliances and heating and air conditioning units. Today, Rinnai is the largest gas appliance manufacturer in Japan and is the technology leader in its industry. Annual corporate revenues, including those of its subsidiaries, are in excess of $2.5 billion. With a global perspective to create 21st century products for the home and office, Rinnai Corporation commits itself to safety and the pursuit of comfortable lifestyles. For more information about the Rinnai Corporation and Rinnai products, visit http://www.rinnai.us.
FOR INFORMATION
Katie O'Neill
Three Public Relations
(404) 835-4527
Caitlin Mangum
Three Public Relations
(404) 835-4521
###