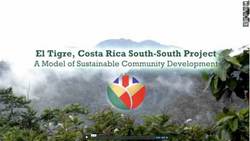 It is fitting that we premiere our documentary on the El Tigre Sustainble Community Development project at ESTC10, where Rios Tropicales is being recognized as an Innovation Leader in Sustainable Tourism. Rafael Gallo, President, Rios Tropicales
(PRWEB) September 16, 2010
Rios Tropicales (http://RiosTropicales.com) announces the premiere of the El Tigre Costa Rica South-South Project Documentary about sustainable rural tourism and community development at ESTC2010 in Portland, Oregon.
Rafael Gallo is hosting this premiere at the ESTC International Ecotourism Society Conference. Rios Tropicales won Runner-Up in the Inaugural TIES 2010 Innovation Leadership in Sustainable Tourism Awards. Mr. Gallo is accepting the award on behalf of Rios Tropicales.
About the Documentary:
This documentary video is about El Tigre, a model of sustainable community development. The El Tigre community is located in the rainforest of Costa Rica, above the Pacuare River Gorge. Thanks to the leadership of Rios Tropicales, El Tigre received a grant in late 2008 from Fundecooperacion as part of the South-South Project, an international collaboration between Costa Rica and The Kingdom of Bhutan. For more information about El Tigre, the South-South Project, Rios Tropicales' involvement, and the Bhutan Connection, visit the new El Tigre de Pacuare community website.
The documentary was filmed on location in June 2010. It was produced by ProteanFilms, a boutique, cutting edge New York-based film company and the executive producer was WillowWorks, a strategic marketing agency specializing in adventure tourism and sustainable businesses, based in North Carolina.
###