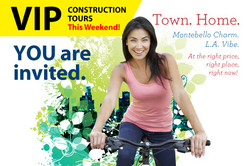 Montebello, CA (Vocus) May 13, 2010
Rio Walk is just the latest new home community from affordable new home builder, The Olson Company. Olson is creating huge Interest for several new home communities all launched since January 2010. Sales have been steady for Olson proving that if you price the homes right and build them where people want to live, sales will follow and so they have. Now it is Rio Walk's turn. This community consists of just 60 3-story LEED Certified Green townhomes. Olson Homes anticipates that pent up demand for affordable housing in Los Angeles County will make Rio Walk highly desirable housing with pricing set to begin from the high $200,000s. Prospective homebuyers are encouraged to register online to be included in the Rio Walk VIP Pre-Sale Event May 22nd. These affordable homes are already attracting a great deal of attention even before they have gone to market. Rio Walk's Sales Center is now open daily from 10am to 6pm accepting applications for these exciting new homes.
Rio Walk is located in historic Montebello just 8 miles from downtown L.A. Rio Walk 's proximity to all the excitement of downtown paired with charm of Montebello's rolling hills offer that perfect mix of Montebello's home town charm while providing access to the vibrancy of a newly booming downtown Los Angeles. Many young homebuyers like the idea having the best of both worlds without actually living in the hard edged downtown. With Rio Walk, homeowners get an affordable LEED certified townhome with access to bike paths and the feel of a real neighborhood by day. Then after a hard day at work,
Rio Walk homeowners have quick access to the nighttime excitement of LA Live.
Rio Walk's Spanish styled architecture is meant to echo the early architecture of the area. The homes offer Montebello Charm with an L.A. Vibe.
For first time homebuyers wanting to live in Los Angeles County will find that Rio Walk's spacious floorplans range in size from 1,294 square feet to 1,774 square feet. The homes will offer up to four bedrooms and four bathrooms and include attached two-car garages. With prices set from the high $200,000s, Rio Walk offers an exceptional value for new housing in Los Angeles County and due to limited supply new home sales at Rio Walk are anticipated to be very brisk. Currently 300 people have registered on the interest list to be notified when the homes go on sale May 22nd.
Rio Walk is launching their new home community with an exclusive VIP Pre-Sales Event May 22nd. The event will allow potential homebuyers to cut to the head of the line and be the first to choose the exact home site and floor plan they want to buy before sales are open to the general public. Home buyers are encouraged to register online at Rio Walk to be at the top of the list and become a VIP.
"Rio Walk is really unique in that it offers homebuyers a chance to live close to downtown without giving up the comforts of a true established neighborhood. Rio Walk offers the best of both these worlds. Rio Walk offers the comfort and warmth of home by day as well as easy access to entertainment and nightlife of the new downtown L.A." said Michelle Johnson, VP of Sales and Marketing for The Olson Company.
To join the interest list and get more information about these affordable New Homes in Orange County visit http://www.riowalkhomes.com .
About The Olson Company--
Founded in 1988, The Olson Company is California's leading developer of innovative LEED Certified and affordable In-town communities in established neighborhoods. The Olson Company creates uniquely designed communities which redevelop and enhance neighborhoods utilizing transit-oriented developments, live/work, mixed use developments, brownstones, single family attached and detached homes in partnerships with cities and other agencies.
Headquartered in Southern California with communities throughout the state, Olson is a multi-year recipient of America's "Builder of the Year" award. Further information about Olson Homes can be obtained online at Olsonhomes.com.
Rio Walk is a registered trademark of The Olson Company and In-Town Living, Inc.
# # #