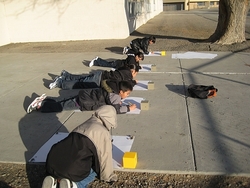 The design for distance learning we are bringing to the table goes well beyond the traditional share-and-tell sessions in which lectures, PowerPoint, videos, and students viewing each other are the main modes for sharing information across the Internet.
Honolulu, HI (PRWEB) June 22, 2010
ANOVA Science Education Corporation (ANOVA Science; http://www.anovascience.com) officially announced today the initial success of its unique "RIP~ing Across the Miles™" approach to distance learning. Scientific inquiry and critical thinking are the core components for the success of this type of learning, involving students who are geographically separated. ANOVA Science teams together classes from different schools that are using the "Research Investigation Process" (RIP ®) model for science education to conduct joint inquiries through which they learn science together.
"Scientific inquiry-based curriculum and instruction are merged with distance learning in a design that stimulates interest and motivates students to want to learn," states Dr. Robert Landsman, president of ANOVA Science and developer of the RIP. "Technology and inquiry are known motivators that 'hook' K-12 learners who require unique learning experiences. The synergism of these motivators on student learning has yet to be fully recognized and utilized in the classroom." ANOVA Science began piloting its distance program in classrooms in Hawaii and New Mexico earlier this year and is now in the process of applying for a patent to cover this unique integration of the RIP into distance learning.
According to Landsman, "One of the major challenges in using a scientific inquiry approach in the classroom is the lack of access to resources pertinent to the wide range of science content that can be explored to meet the national and state science standards. A sound distance learning design coupled with a scientific inquiry-based curriculum can address this need by providing opportunities for students to engage in rich learning experiences that would not otherwise be available to them."
Examples of such resources may range from differences in classroom facilities available to teacher and students, different cultural and geographic environments, and availability of background information and research subjects.
Crystal Doi's class of third grade students at Queen Lili'uokalani Elementary School in Honolulu, Hawaii is working with Jennifer Evan's third grade class at Nataani Nez Elementary School in Shiprock, New Mexico to learn about characteristics of light, geographic relationships, and the movement of the Earth around the sun through a research investigation on shadows.
"We are already well into the 21st century and the design for distance learning we are bringing to the table goes well beyond the traditional share-and-tell sessions in which lectures, PowerPoint presentations, videos, and students viewing each other are the main modes for sharing information across the Internet," continues Dr. Landsman. According to Hawaii high school teacher Carrie Bashaw, this approach introduces a shared process for thinking, communication, and decision making among the participants that drives how the student scientists interact in their virtual laboratory. Bashaw claims that this allows the experience to be richer in the sharing of conceptual ideas and learning of standards-based content. Teacher Jennifer Evans added, "I think that when they have someone else to compare data with, they have to use higher level thinking--they think more about what they are doing and they have to back up their decisions with well thought-out reasons. When the students do an inquiry together, they have a real reason to compare and contrast observations, suggested methods, and results."
Crystal Doi stated, "This distance learning project is designed to help us practice for the 21st century and the technology that is available to us. It increases confidence level and motivation. Students create their own ideas and design and conduct an investigation based on those ideas. They apply critical thinking skills to think outside the box to become problem solvers. They apply the content gathered from textbooks and other sources to their investigations."
Students in Denise Evan's 7th grade class at Mesa View Middle School in Farmington, New Mexico are co-investigators with Carrie Bashaw's Kaimuki High School students in Honolulu, Hawaii. Their investigation is designed to compare human contribution of rubbish found in waterways in both states that eventually travels to and impacts the oceans.
"I feel the RIP~ing Across the Miles design has helped prepare my students for the future because they now know the world is accessible to them. It will allow them to step out of their Farmington sandbox," stated teacher Denise Evans. Her student, Kelsi Johnson feels that this distance learning experience has stimulated her interest to pursue marine science as a career. "It gave me an idea about what it is going to be like to study the ocean, the wildlife in it, and our impact on it."
During one of the virtual laboratory sessions, students were asked to reflect on their venture into inquiry shared across thousands of miles. Their responses were overwhelmingly positive. Students stated, "It's more interesting because we both are working on the same thing and yet we both get different answers, and it's fun to see how much stuff they learn too;" "It's helping me understand better by making me want to do the experiment and see how different our answers are to their answers;" "It's more interesting because it is cool to see what problems people in other states are dealing with;" and "They have different things there so what we study is completely different and interesting."
The combination of a variety of video conferencing hardware and software technologies and solutions used in the investigations across the schools exposed technological shortcomings. "This illustrates the need for education use to drive technology development and not just vice versa," comments ITT engineer and ANOVA Science Board Member Gordon Schaubhut.
"This is a time when approaches to education are encouraged to heavily emphasize STEM fields. The development of STEM curriculum and achievement of the science standards are areas of K through 12 education that are sorely lacking," said New Jersey Bergen Academies' teacher of technology, Evelyn Rios. "Learning through curriculum based on the merging of scientific inquiry with the technologies involved in both the discipline being studied and communication over the Internet really fits this bill."
RIP is a trademark or registered trademark and service mark or registered service mark, of ANOVA Science Education Corporation, ANOVA Science Publishing, and Dr. Robert Landsman in the U.S. and/or other countries. ANOVA Science Education Corporation assists schools in implementing scientific research-based science education programs, providing students with critical thinking and decision-making tools for life-long learning skills that support economic growth and the maintenance of security in the USA. As sole distributor of products and services associated with the Research Investigation Process (RIP ®) inquiry-based science education program for K-12 schools, the contribution of ANOVA Science's vision toward the nation's movement for science education reform has been recognized and is well received by national and state education organizations. ANOVA Science's activities and services include professional development workshops, seminars and projects; teacher coaching and mentoring; curriculum development addressing state and national standards; and publishing education materials available online at http://www.anovascience.com or http://www.ScientificInquiry.com.
###