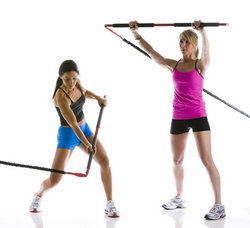 "The RIP-COREFX is one of the most versatile training tools I've used." Martina Navratilova, tennis legend
Aspen, CO (PRWEB) July 6, 2010
Aspen Core Fitness launched its "3D Training" system today featuring the RIP-COREFX fitness and rehabilitation device. 3D Training consists of exercises designed to move the body through all planes of motion at different speeds while working against varying forces. This unique fitness system mimics the three-dimensional movements of every day life and sports in a controlled environment and teaches proper body movement while preventing injury. The RIP-COREFX is the ideal device for 3D Training because of its unlimited ability to replicate natural movements. 3D Training increases sports performance and reduces risk of injury. Use the affordable and portable RIP-COREFX device for 3D Training and burn four times as many calories as a traditional core workout!
3D Training and the RIP-COREFX was developed by Pete Holman, a Physical Therapist as well as a Certified Strength and Conditioning Coach. Holman, a former TaeKwon-Do National Champion, says, "People in the gym spend hours on weight machines and exercises that move the body on a single plane of motion. They might build isolated muscle strength but these exercise don't have anything to do with how they move through their life. We move in three dimensions: up and down, side to side and in rotation. We hoist groceries, lift babies out of cars, pull suitcases, swing golf clubs, use tennis racquets and ski down mogul fields. Each of these movements puts uneven forces on the body and, whether we know it or not, our body fights back. Without a strong core, your joints and spine pay the price for these movements. Our system builds a strong, protective infrastructure so your muscles do the work and protect against injury."
Another benefit of the 3D Training system is its effect on metabolic rate. The RIP-COREFX 3D Workout burned four times more calories than a traditional core exercise routine during metabolic testing at the Aspen Sports Performance Center.
"We know that people are looking for a training system that will keep them healthy and let them do what they want for as long as they want," says Holman. "The ideal workout needs to train the body for the movements of everyday lift and sports, burning maximum calories and building core strength while preventing injuries. A 3D Training workout with the RIP-COREFX does just that."
Current RIP-COREFX users include winter Olympic medalists Chris Klug and Gretchen Bleiler; San Antonio Spurs Strength Coach Mike Brungardt; UFC fighters Shane Carwin, Brendan Schaub and Eliot Marshall; University of Maryland All-American MLL Lacrosse player Ray Megill; and tennis legend Martina Navratilova. Navratilova says, "The RIP-COREFX is one of the most versatile training tools I've used."
For a retail price of $179.95, the RIP-COREFX Core Bundle includes the RIP-COREFX as well as a medium resistance sport cord, carabiner, 3D Training beginner DVD, guidebook and nylon tote bag. Additional accessories and bundle options are available.
The complete line of RIP-COREFX products, educational programs and accessories can be purchased online at ripcorefx.com
About Aspen Core Fitness:
Aspen Core Fitness (ACF) is the creator of 3D Training, RIP-COREFX™ and Postural Precision Movement (PPM)™. Rooted in Sports Medicine science, ACF's products include CEC certified continuing education courses using their unique Postural Precision Movement system built on the latest Physical Therapy concepts to enhance the safety and efficiency of every workout. Aspen Core Fitness' goal is to change the landscape of the fitness industry by offering affordable, portable 3D Training systems that will challenge those new to exercise as well as professional athletes.
###