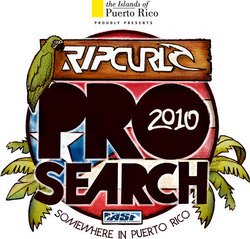 "Having an event in Puerto Rico is almost a draw to keep me on Tour all year, because I couldn't imagine having an event in my backyard and not being able to be there," added Kelly Slater.
(PRWEB) October 7, 2010
The Western coast of the island eagerly awaits the arrival of the Rip Curl Pro Search 2010. The exact location won't be known until closer to the dates; contest organizers are waiting until the optimal wave conditions to pinpoint exactly which wave the competitors will surf. With more than 30 top rated spots to surf on the West coast of Puerto Rico, they'll have many options to choose from. More than 50 of the world's best men and women professional surfers will come to compete in Puerto Rico's sparkling blue water coasts.
The contest is schedule for an approximate two week window between the end of October and beginning of November 2010. The Rip Curl Pro Search Event in Puerto Rico is one of the final stops in the ASP (Association of Surfing Professionals) World Tour. Rip Curl has sponsored the globally-mobile competition since 2005. This particular event is held in new locations across the globe each year and is slated to make a big splash in the Caribbean this fall. Rincon Puerto Rico will be filled with tourists looking to enjoy the festivities sponsored by Rip Curl, Coors Light, the leading beer of Puerto Rico, and many other local companies.
One surfer who has experienced the waves of Puerto Rico is 38-year-old World Tour veteran Taylor Knox. "It's a great place to have the Search event, because we're going to have plenty of options and waves to choose from," said Taylor Knox, who finished runner-up at the 2006 Rip Curl Pro Search. "Rip Curl has been really good at picking places that have more than one wave option and I think it's great to do something new by heading to the Caribbean."
"Having an event in Puerto Rico is almost a draw to keep me on Tour all year, because I couldn't imagine having an event in my backyard and not being able to be there," added Kelly Slater. The nine-time ASP World Champion hails from nearby Cocoa Beach, in Florida, and knows the Caribbean waves well. "I have a lot of great memories of Puerto Rico - all the first wins I had internationally as a kid were there and I surfed a lot of contests there when I was younger. I'm looking forward to getting there." (Source: http://www.live.ripcurl.com)
Travelers searching for lodging on the West coast of the island, including Rincon, should head right to RinconVacations.com to book all of their voyage needs in one easy place. One could choose from inexpensive hotels, vacation rentals, or "live the island life" in guest houses by the beach. In addition to lodging accommodations, Rincon Vacations will help you plan exciting activities while on the exotic island of Puerto Rico. Try your hand at surfing with professional surf lessons, or even explore the many wave breaks on the west coast with a guided surf tour. With all of the adventures to be had, Rincon Vacations can book them all, leaving you to relax in the Caribbean sun.
Rincon Puerto Rico is located on the Northwest corner of Puerto Rico and is known as the Porta del Sol, for its beautiful sunsets, world-class surfing and endless adventure. Choose from a variety of lodging accommodations in Rincon, from beachfront hotels and resorts to smaller villas, vacation rentals and guest houses. Rincon offers easy access to all the adventure that Puerto Rico has to offer, including sailing charters, atv tours, eco-adventure, coffee hacienda tours, cultural events, surfing, scuba diving, snorkeling and more. To start planning your Rincon vacation, visit RinconVacations.com or call 787.632.2889.
About Rincon Vacations:
Rincon Vacations offers complete vacation planning, lodging resources, activities and tour bookings in Rincon Puerto Rico. They offer a complete portfolio of hotels, condos, vacation rentals and villas for short term rental in Rincon Puerto Rico and the surrounding areas. Choose your activities from Rincon Vacation's complete tour list, including surf lessons, ziplining and eco-adventure tours, guided hikes, bioluminescent bay tours, scuba diving, horseback riding, jet ski tours and rentals and more. Plan and book your entire vacation with one call: 787.632.2889 or visit http://www.rinconvacations.com to book online.
###