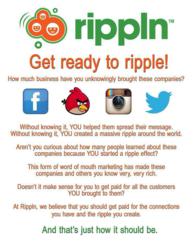 Rippln has attracted a diverse user population,and the caliber of professionals joining is likely due to the new innovative social commerce platform that is now spanning the globe
Vancouver, WA (PRWEB) May 27, 2013
Rippln has attracted over 650,000 users while in beta launch and user growth has not slowed down. The company conducts weekly HQ webinars updating users with new releases, and training.
"Rippln is bringing on a diverse user population,and the caliber of professionals joining is likely due to the new innovative social commerce platform that is now spanning the globe. " says Chris Cartmill from Transparent Business Solutions.
Rippln has created a concept and platform that tracks a users social media influence throughout the world, and rewards the user based upon the monetized activity from within the user's Ripples. The Rippln App will be available to download sometime in June of 2013.
Business Insider recently published an article about why social media advertising is about to explode, and summarizes the power of in-stream advertising.
To request an invite to join Rippln, go to:
http://transparentbusinesssolutions.com/get-your-invite