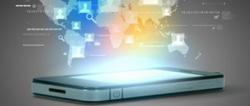 Here's your chance to learn about trends in Mobile, Apps and Gamification. These three industries are huge growth sectors that are sucking up hundreds of millions of dollars in venture capital.
Milmay, NJ (PRWEB) April 22, 2013
The Rippln app brings long-overdue transparency to the social engagement business and has created a new monetary model for "eyeball acquisition".
With Rippln, people will finally be able to see the impact of their social graph on the market and have the chance to profit from it. This transparency is important because in recent years huge companies and apps have relied on users' social influence to grow their companies by one person telling another person.
Transparent Business Solutions will be providing support for invitation requests during the beta launch. Transparent Business Solutions believes that Rippln will change the way communication is currently being conducted across the world .
With the ability of the global platform Rippln will offer, marketing and advertising companies will have an immense capability to reach millions of mobile users through the Rippln app platform.
The app is set to launch in over 78 countries upon its release at the end of May. The founders have truly created a gamified mobile app that has gone viral already before launch.
A site from Transparent Business Solutions has been designed to quickly send out Rippln invites.
Visit Rippln Invites to get an invite.