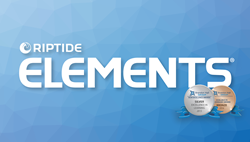 Orlando, FL (PRWEB) March 21, 2017
At Learning Solutions 2017, Riptide Software will demonstrate the power and potential of its award-winning learning technology product line, Riptide Elements, powered by xAPI, in Booth 101.
Additionally the eLearning Guild has asked Nick Washburn, Director of Riptide Software Learning Division, to speak at their Learning Solutions 2017 Conference xAPI Camp on Tuesday March 21st, during the camp's case-study showcase. Nick will also be co-presenting with Dr. Kathryn Birmingham, Vice President of Research & Development at ImEpik, on Thursday March 24th at 12pm from the Strategic Solutions Stage. Lastly, Nick will be exhibiting at the conference Demofest Thursday night from 5:00-6:30pm. All three are great opportunities for learning and development leaders to learn more about what you can do with xAPI, today. Details on the three presentations are below.
xAPI Camp Case-Study
Title: Converting Effective Instructor Led Training into Engaging eLearning with xAPI
Description: In this case-study showcase, Nick will cover how the University of Southern California's Institute for Creative Technologies partnered with Riptide to create engaging eLearning from effective instructor led training with xAPI.
Strategic Solutions Stage Presentation
Title: Delivering Effective and Interactive Food Safety Training to the Front Lines
Description: Dr. Kathryn Birmingham will join Nick Washburn to share how Im EPIK has been able to leverage Riptide's Learnpoints™ Adaptive Learning Courseware and Storepoints™ Learning Record Store to create their engaging and effective HARPC training in a highly complex and regulated field like food safety training. You will learn how Kathryn was able to create plan-based outcomes that translate the training directly to the job, implement critical-thinking assessments directly into the course, and design training with an emotional learning perspective that contextually evolves as the training goes on to better engage the learner.
Demofest Showcase
Title: Game-Based, xAPI-Driven Soft Skills Training
Description: In this showcase, Nick will be exhibiting a Supervisor Development Course that features a fantasy workforce game that reinforces soft skills and uses xAPI. This is one of the courses created by the University of Southern California's Institute for Creative Technologies with Riptide's Learnpoints Adaptive Learning Courseware.
Since 2012, Nick Washburn has led the Riptide Software Learning Division designing and developing Riptide Elements®. Elements is an xAPI powered learning product line recognized in 2015 & 2016 by Brandon Hall Group as a "Best Advance in Learning Management Technology."
For more information about Learning Soultions 2017 or to register, visit here.
About Riptide Learning
The Riptide Elements® product line enables Learning & Development leaders to modernize their learning technology without replacing their LMS. The Elements product line features Storepoints Learning Record Store powered by the Experience API (xAPI), Learnpoints Adaptive Learning Courseware delivering interactive courses to any device, and Waypoints In-Line Software Training that allows users to learn by doing. Elements products are flexible, scalable, and configurable to any enterprise learning ecosystem to help organizations take the first step toward the future of learning. Riptide is an active participant in the community developing xAPI—the benchmark in learner experience tracking.
About The eLearning Guild
The eLearning Guild is a global Community of Practice for e-Learning professionals and provides learning opportunities, networking services, resources, and publications for over 23,800 members. The Guild represents a diverse group of designers, developers, managers, directors, and executives focused on training and learning services. The eLearning Guild is a subsidiary of Focuszone Media, Inc, based in Santa Rosa, California.