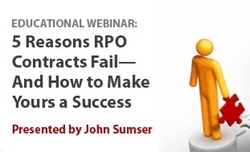 The one-hour event, presented by HRExaminer Editor John Sumser, takes place Wednesday, Sept. 22, at 11 a.m PDT / 2 p.m. EDT.
San Jose, CA (Vocus) September 20, 2010
What distinguishes a great recruitment process outsourcing (RPO) relationship from a disastrous one? HR managers and executives can learn the key factors that separate RPO success from failure in a free RiseSmart-sponsored Webinar, "Five Reasons RPO Contracts Fail – and How to Make Yours a Success." The one-hour event, presented by HRExaminer Editor John Sumser, takes place Wednesday, Sept. 22, at 11 a.m PDT / 2 p.m. EDT.
"This event is designed to teach you what to look for – and also what to look out for – when considering an RPO," said Sumser, a veteran HR analyst whose magazine, HRExaminer, focuses on the people, technology, ideas and careers of senior leaders in human resources and human capital.
"The right RPO relationship gives human resources departments the opportunity to offload busy work and get on with the real business of HR," said Bill Sebra, general manager of recruiting solutions for RiseSmart, who oversees the company's Recruit Concierge RPO offering.
During the Webinar, Sumser will share the results of HRExaminer's survey of hundreds of HR professionals and outline a preferred process for identifying and evaluating an RPO vendor. Participants will also:

Get a look at RPO trends;
Learn the differences between a typical staffing agency and an RPO vendor;
Learn how to evaluate an RPO vendor; and
Identify major risks with an RPO contract and how to avoid them.
By registering for the event, participants will be entered to win an Apple iPad. During the closing moments of the live event, organizers will provide a secret password to participants. The winner will be selected by a random drawing and contacted using the registration info provided. The winner must know the secret password.
Interested professionals can register for the Webinar by signing up at the following url: https://www3.gotomeeting.com/register/300212174.
About RiseSmart
RiseSmart provides next-generation outplacement and recruitment process outsourcing solutions. The company leverages a common technology platform, proven methodologies, and one-on-one support to help employers with their workforce strategy, and displaced employees with their career strategy. RiseSmart drives significant ROI to organizations by offering affordable pricing, reducing severance costs and unemployment taxes for outplacement services and reducing cycle time and cost of hire for recruiting services. For more information, visit http://www.RiseSmart.com.
Contacts:
Scott Baradell
RiseSmart
972.235.3439
sbaradell(at)risesmart(dot)com
http://www.RiseSmart.com
RiseSmart, the RiseSmart logo, Transition Concierge, Recruit Concierge, Talent Assurance, Job Assurance, SmartConsult, SmartSource, and Transitioning Talent. Changing Lives. are trademarks of RiseSmart, Inc. All other trademarks are the property of their respective owners.
###