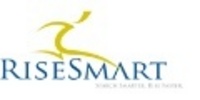 We're very pleased that HR and recruitment industry stalwarts have chosen to invest in RiseSmart
DALLAS (PRWEB) March 4, 2008
Bridging the gap between traditional job boards and the personal attention of a career coach, RiseSmart - a subscription-based service competing with executive job sites such as TheLadders.com - assigns each member a personal "Job Concierge" who is responsible for matching member profiles with the most relevant job listings returned through an intelligent automated search of its million-job database.
The RiseSmart Concierge is the centerpiece of RiseSmart's strategy of building deeper customer relationships than other $100K+ job sites. Each RiseSmart Concierge is responsible for reviewing the resumes and learning the job preferences of assigned members. Concierges can modify future searches based on member feedback - for example, screening out jobs from undesirable companies.
RiseSmart's investors include Craig Stamm, the former chief financial officer for CareerBuilder.com and Headhunter.net; Mark Hamdan, founder and chief executive officer of HRsmart, an Inc. 500 HR technology company; and Louis Ramery, senior vice president of relationship marketing at Sears Holdings Corporation.
"We're very pleased that HR and recruitment industry stalwarts have chosen to invest in RiseSmart," says Sanjay Sathe, RiseSmart founder and chief executive officer. "They believe, as we do, that RiseSmart will transform the way senior professionals find jobs online."
The company expects to seek its first institutional round of financing this year.
About RiseSmart
Based in Dallas, RiseSmart is a human-powered job search service that prescreens online search results for time-starved managers and executives. The RiseSmart team matches opportunities with jobseekers based on each member's unique profile, freeing senior-level professionals to focus on networking or the demands of their current jobs. For more information, visit the company's Web site at http://www.RiseSmart.com or its blog at http://www.RiseSmart.com/blog. To view a demo, visit http://www.RiseSmart.com/demo.