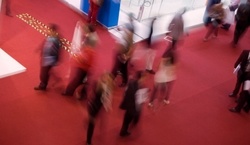 Two weeks ago, Transition Concierge received a tremendous response at the HR Technology Conference & Expo in Chicago, and we are now excited to have the opportunity to exhibit at HR Southwest
Fort Worth, TX (Vocus) October 12, 2009
RiseSmart is transforming the way companies provide outplacement services with its tech-savvy, low-cost Transition Concierge offering. Now, HR industry decision-makers can meet face to face with the RiseSmart team at Booth 721 at the 68th Annual HR Southwest Conference, to be held at the Fort Worth Convention Center, Oct. 14-16.
"Two weeks ago, Transition Concierge received a tremendous response at the HR Technology Conference & Expo in Chicago, and we are now excited to have the opportunity to exhibit at HR Southwest," says Sanjay Sathe, RiseSmart founder and CEO, who will be in attendance at the conference. "We have created a service model that is turning the corporate outplacement business on its head and permanently reducing its cost structure. So we're excited to share what we're doing directly with the HR decision-makers who attend this event."
RiseSmart Transition Concierge uses Web technology supported by a global team of HR professionals to provide corporate clients a tech-savvy, cost-effective alternative to existing outplacement services.
The solution dispenses with "soft services" like grief counseling and office space to focus on the services that displaced workers need most: help with marketing themselves through a rewrite of their resumes and cover letters; guidance from a transition specialist, including assistance in using online social networks; and -- most importantly -- actionable job leads from across the Web based on their specific criteria, for a period of up to six months.
The San Jose Mercury News observed, "RiseSmart typifies [Silicon Valley's] knack for using technology to disrupt standard business practices." And an Aug. 20 Wall Street Journal story highlighted RiseSmart as a low-cost, high-tech alternative to traditional outplacement providers, citing a Fortune 500 client that chose RiseSmart after an unhappy experience with a pricier firm.
An independent 2009 survey of 355 U.S. employers by the Institute for Corporate Productivity (i4cp) showed that the average employer paid more than $5,000 per executive or manager for three to six months of outplacement services -- more than twice the cost of Transition Concierge.
About RiseSmart
RiseSmart, based in Silicon Valley, is transforming the way companies provide outplacement services and individuals use the Web to find jobs. For more information, visit the company's Web site at http://www.risesmart.com or the Transition Concierge Web site at http://www.transitionconcierge.com.
Contacts:
Cathy Baradell
RiseSmart
972.235.3439
###