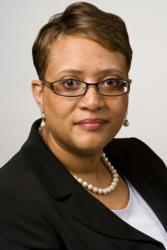 I made the decision to leave DBM for RiseSmart because, frankly, I believe that RiseSmart is the future of the outplacement industry
San Jose, CA (PRWEB) September 12, 2011
RiseSmart, the leading provider of next-generation outplacement solutions, has named former Drake Beam Morin (DBM) senior vice president Kim Johnson its vice president of sales, as the fast-growing startup continues to disrupt the human capital management industry with its technology, leadership and accountability to its customers.
As SVP of sales for DBM, Johnson was a member of the executive leadership team and had direct responsibility for a geographic territory representing more than $50 million in annual revenues. Johnson brings nearly two decades of sales experience in the HR space. Prior to her 11-year tenure with DBM, she managed sales training at Pryor Resources, one of the world's largest training providers.
"Kim has had extensive experience delivering custom sales solutions for corporate outplacement clients in her decade-long rise to the top at DBM," said Sanjay Sathe, founder and CEO of RiseSmart. "We expect her to play a significant role in RiseSmart's ambitious growth plans, as we continue to increase our share of the U.S. outplacement market."
"I made the decision to leave DBM for RiseSmart because, frankly, I believe that RiseSmart is the future of the outplacement industry," said Johnson. "The success rate of the Transition Concierge ® outplacement solution is truly astounding. With this service, RiseSmart has distinguished itself by achieving a time-to-placement ratio of only 18 weeks for transitioning employees — less than half the U.S. average of more than 40 weeks."
Johnson has held sales leadership positions throughout her tenures at DBM and Pryor Resources. She holds a bachelor's degree in business administration from the University of Oklahoma.
About RiseSmart
RiseSmart is the leading provider of next-generation outplacement solutions. The company leverages a cloud-based technology platform, proven methodologies, and one-on-one support to help employers with their workforce strategy, and displaced employees with their career strategy. RiseSmart drives significant ROI to organizations by offering affordable pricing while reducing unemployment insurance taxes and severance costs. RiseSmart has received a wide range of awards and recognition from organizations including the Golden Bridge Awards, the Momentum Index, Red Herring, the San Francisco Business Times, SiliconIndia, the Silicon Valley/San Jose Business Journal, the Stevie Awards and TiE. For more information, visit http://www.RiseSmart.com.
###