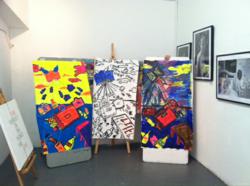 Miami, Florida (PRWEB) May 29, 2013
Florida drug rehab center, Into Action Treatment, collaborated with Rise Up Gallery in Miami this weekend. They created beautiful artwork together. The partnership between Rise Up Gallery and Into Action Drug Treatment Center is very symbolic, as both addicts and people with disabilities go through a very difficult time in their lives coming to terms with their limitations. Drug addicts and alcoholics reach a bottom of despair and hopelessness. They face the hard reality that they are going to die if they keep drinking and using drugs. People with disabilities, especially those who were perfectly healthy the day before, go through a similar stage in their life where they must accept their new limitations in life.
Into Action Treatment and Rise Up Gallery are not done collaborating together. They have an upcoming workshop and benefit project together, which they are both extremely excited about. Stay tuned for more exciting news from Into Action Treatment and Rise Up Gallery, as they collaborate to inspire those both living with addictions and disabilities to live a more fulfilling and rewarding life.
Rise Up Gallery is a nonprofit organization which showcases the artwork of people with disabilities. The sale of these works creates a vital income opportunity for the artists. Rise Up also partners with hospitals and rehabilitation facilities to offer adaptive art workshops to the community.
Into Action Treatment is a small 24 bed coed Florida drug rehab center located in Boynton Beach. Into Action is a very unique center, which focuses on long term recovery for addicts and alcoholics. Most treatment centers in the industry are 28 days, however Into Action is a minimum of 45 days, while most clients who complete the program end up staying over 90 days, even if their insurance money has run out. For more information on Into Action Treatment and how they can help those affected with addiction, visit their website at http://www.intoactiontreatment.com, or call their 24 hour hotline at 1-855-933-6732 for free addiction advice and treatment options.