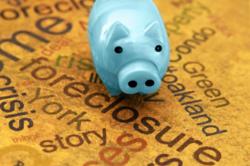 The risk of foreclosure is diminishing while options increase. The faster banks take over homes, the quicker they assume full liability and the costs of upkeep, fees and resale. Negotiating is less of a hassle and preserves the bottom line. - David Chang
Chicago, IL (PRWEB) June 13, 2013
Recent headlines have indicated that the nation's overall risk of foreclosure may be lessening, as major bank's processing of thousands of delinquent loans waiting to be foreclosed upon has slowed to a crawl because of tighter industry standards.
According to the LA Times, "A month after nearly halting foreclosure sales in reaction to tighter federal regulation, Wells Fargo & Co. and Citigroup Inc. are still selling seized properties at a sharply reduced pace." The report notes that, "The slowdown illustrates the continuing fallout from scandals that erupted in 2010 over 'robo-signed' foreclosure documents, bank staffs that struggled to process loan modification applications reliably, and other borrower complaints."
Foreclosures in Limbo
However, MSN News reports that this doesn't necessarily mean that people won't continue to struggle to pay their mortgage. "About 4 million loans that are seriously delinquent should remain in the foreclosure process for at least three more years, according to LPS Applied Analytics, the data arm of Lender Processing Services, one of the country's large loan servicers. 'We've got a huge population of shadow inventory that will not be turned around in the next year,' says Kyle Lundstedt, Applied Analytics' managing director. 'We've got three to five years of this extended new normal.'" This mean that many of these homes could still be foreclosed upon, though they'll potentially remain in limbo for years.
This presents both a problem and an opportunity for homeowners, who could get extra time to negotiate or modify their loan. Alternately, it could also mean extra years of uncertainty and sinking credit scores. Attorney David Chang, a partner at Chang and Carlin, LLP notes the upside; that banks may also be showing an increased hesitancy to foreclose quickly. "The risk of foreclosure is generally diminishing while options increase. The faster banks take over a home, the quicker they assume full liability and the costs of upkeep, fees and resale. Negotiating is often less of a hassle and preserves their bottom line."
The truth behind the somewhat misleading headlines is that this quarterly drop in foreclosures was not a result of improving economic conditions, a surge in loan modifications or an improving housing market. This news is akin to the recent rebound in house prices, according to economic researcher Dr. Chris Martenson, "… a good portion of the rebound in house prices in many markets has less to do with renewed optimism, new jobs, and rising wages, and more to do with big money investors fueled by the ultra-cheap money policies of the Fed." While the headlines may scream recovery, the underlying reality is more one of forestalled decline.
The Effect of Foreclosure on Neighborhoods
This is bad news for many neighborhoods, as the effects of foreclosure are not isolated to individual families. According to Chicago Weekly: "'In some parts of the city things are recovering; in others, not so much,' Spencer Cowan, vice president of the Woodstock Institute, an economic research group, says. The fact that, on the whole, slightly fewer foreclosure filings are being reported each year 'doesn't mean a community is getting better. In some communities, one in six properties have already been auctioned [due to foreclosure]. That's a huge number.'"
In addition, "…the cumulative percentage of units affected by foreclosure in Chicago rose from 9.5 percent in 2009 to 13.8 percent in 2011, to 15.4 percent in 2012, and is now over thirty percent in eight South Side community areas. " This indicates that despite the possible lessening of the overall risk of foreclosure for individuals, the actual situation in many of these communities could be getting worse.
As the fallout from the burst housing bubble continues to unravel, it remains a challenge to predict when a more sustained recovery will emerge. One thing is certain, even if foreclosure processing appears to be stalled, it is essential for those facing a potential foreclosure to contact an experienced real estate attorney and explore all options as soon as possible.
About Chang and Carlin, LLP
The attorneys at Chang and Carlin, LLP provide Chapter 7 and Chapter 13 bankruptcy filings, along with real estate and foreclosure services. For any bankruptcy and real estate legal needs, Chang and Carlin, LLP provide the necessary legal experience and personal service that clients deserve.