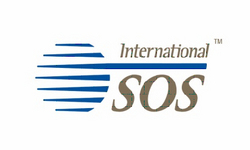 The global business leaders we work with recognize that while duty of care is a challenging issue, protecting employees is not only the right, but the smart thing to do
Trevose, PA (PRWEB) October 27, 2009
In today's global economy, companies don't hesitate to cross borders, span time zones or operate in remote locations to achieve their objectives - and neither do their employees. After analyzing 300 global companies' travel itinerary data, a recent International SOS study found that in the past year, more than 3.5 million international trips were taken by employees, a quarter of which were to high or extreme risk destinations. With this increased mobility comes inevitable risks - everything from illness (H1N1 pandemic), to outbreaks of civil unrest (recent strife in Guinea), to natural disaster (recent tragic events in Southeast Asia and the South Pacific).
To assist companies in dealing with this uncertain world, International SOS announced today the global release of a new white paper titled, "Duty of Care of Employers for Protecting International Assignees, their Dependents, and International Business Travelers." Authored by Lisbeth Claus, Ph.D., SPHR, GPHR, professor of global HR at Willamette University, this roadmap provides business leaders with the risk management information and tools they need to protect their most important asset - their employees - which allows them to also effectively address business, financial and reputational risks. With a focus on safeguarding employees who travel or live abroad on assignment, the paper breaks down the duty of care puzzle and provides an integrated risk management approach to solving it.
"Many companies are overwhelmed when it comes to the issue of duty of care," said Suzanne Garber, Chief Operating Officer, International SOS, Americas Region. "With this white paper, our focus is to clarify the landscape, convene best practices and offer actionable guidance. Oftentimes, an organization already has some of the resources to create a successful duty of care program; it's just about bringing the right people - company leadership, human resources experts, security professionals, travel managers - to the table to develop a collaborative approach. Many organizations are operating across borders without fully understanding the obligations that surround duty of care."
Acknowledging that it is impossible to predict exactly when, where or how crises will occur, the integrated risk management approach to duty of care put forth by International SOS emphasizes the importance of preparedness and planning. The paper advises that the best companies don't wait for an emergency or a lawsuit to occur before putting in place a support system for employees. Rather, leading companies and organizations recognize employee health and safety as core components to their success and are proactive in establishing risk management standards and practices that reflect that:
"At KPMG, the principles of our duty of care program are woven into the corporate culture we live every day," said Craig DeCampli, Director of Global Security for KPMG, an audit, tax and advisory firm. "Safeguarding employees from the moment they purchase a plane ticket to when they return home is simply part of what we call 'the KPMG way.' We simply consider it the right thing to do."
"Bank of America is committed to providing our employees with an environment in which they can thrive, and a strong duty of care program is central to achieving that commitment," said Ken Lucas, Senior Vice President, Intelligence & Analysis Director, Corporate Security, Bank of America. "Ensuring the wellbeing of each member of the Bank of America family - wherever their work takes them - is a value that's woven deep into our corporate culture."
"Wherever our work takes us, the NBA is committed to the health and safety of all employees," said John Daniels, Senior Director, Facility Security, National Basketball Association. "Our people are undeniably our most valuable assets and we take every precaution in ensuring their wellbeing."
"For more than 45 years, WWF has been protecting the future of nature, and in doing so, our employees travel to all corners of the globe," said Mitchell Keiver, Director of Safety, Security and Risk Management, World Wildlife Fund, Inc. "Preparing and then enabling our dedicated staff to carry out this work while staying healthy, safe and secure is our internal mission."
Leading up to the release of the white paper, International SOS held several roundtable events led by Dr. Claus and attended by business leaders in New York, Boston, Chicago, Los Angeles, and Washington. D.C., and the company will hold additional events in San Jose (October 28) and Portland (November 16). During each session, attendees completed an interactive exercise in which they discussed how they might address hypothetical employee crises while each playing the role of a different corporate decision maker, from human resources manager to legal counsel.
"The global business leaders we work with recognize that while duty of care is a challenging issue, protecting employees is not only the right, but the smart thing to do," said Garber. "International SOS is proud to offer a roadmap of the challenging landscape, and will continue to serve as a resource to assist companies in navigating it."
This is the first white paper that deals with duty of care and risk management as it applies to international assignees, their dependents and international business travelers. Key components of the white paper include a review of pertinent legislation and case law summarizing 36 cases in nine countries with information from the European Union and International Labor Organization; reasoning as to why duty of care is fragmented within most organizations; and a cost-benefit analysis that also ties in a discussion around corporate social responsibility. For more information on upcoming events, or to request a free copy of the white paper, visit http://www.internationalsos.com/dutyofcare.
About International SOS
Operating in over 70 countries, International SOS helps organizations manage the health and safety risks facing their travelers, international assignees and other globally-mobile employees. Its services range from consultancy and planning services to 24-hour medical and security advice and assistance. International SOS provides emergency medical and security evacuations when there is a critical illness, accident or civil unrest. Last year, the company handled over 1,000,000 cases, including nearly 18,000 evacuations. International SOS works in partnership with businesses, governments and non-profit organizations and currently provides key services to 83 percent of the Fortune Global 100 companies. Working in some of the most inhospitable places on earth, International SOS offers international standards of medical care where it is not available or where cultural and language barriers exist.
###