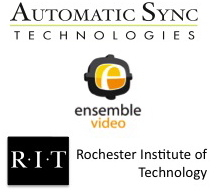 Ensemble's integration with AST created a streamlined video platform to handle our high volume of captioning — it's a massive time saver for RIT.
Boston, MA (PRWEB) July 16, 2012
Automatic Sync Technologies (AST) and Ensemble Video today announced the completion an integrated platform for captioning video course material at Rochester Institute of Technology (RIT). AST's CaptionSync(TM) is now integrated into the Ensemble Video platform to meet the accessibility and learning requirements across the RIT student body, including students from the National Technical Institute for the Deaf (NTID), one of nine colleges at RIT. Both companies are attending the Campus Technology Conference, Boston Seaport World Trade Center, on July 17 and 18 and are available for contact in the Exhibit Hall at Booth 744.
"There is no corner cutting here, and the fact that Ensemble developed the custom integration with AST and streamlined the platform to handle our high volume of captioning is a massive time saver for us," said J. Ian Webber, senior manager Academic Technology and Media Services, RIT. "We have used AST for many years because of their high quality and speed. To have CaptionSync integrated into our system is an enormous benefit."
Ensemble Video mapped to the RIT workflow and incorporated AST tools that were already built into the university's captioning services. The new platform service needed to go beyond criteria for a general audience caption experience and meet a unique set of needs. The new service exceeds general accessibility standards, accommodating special requirements that boost comprehension, such as high-level font and display using specialized color, sizes and background.
"AST has a long relationship with RIT, and we are extremely pleased to partner with Ensemble in the development of an integrated platform for captioning workflow," said Kevin Erler, president of Automatic Sync Technologies. "Our CaptionSync technology is designed to meet the highest level of accessibility standards. The NTID defines best practices to increase learning comprehension and we are proud to implement this within the integration of RIT's new platform."
Ensemble worked closely with RIT to enable a caption format customization capability that made it easy for RIT to implement the custom changes to match the NTID use standards. "We are proud to be selected to develop the platform for RIT, because they have unique needs and demands in serving the NTID college," said Andy Covell, CEO at Ensemble Video. "The integrated platform is designed to advance RIT's captioning ability, and we are pleased to develop the platform to deliver these extended capabilities."
About Ensemble Video
Ensemble Video is an award-winning video content management system that enables efficient, coordinated, and collaborative rich media management for a small group of users or all the users within an organization. Ensemble Video is flexible, easy to deploy and support, easy to use, and integrates easily with a wide range of complementary video and Web technologies. Learn more about our expertise, our team and our story.
About RIT and NTID
Founded in 1829, Rochester Institute of Technology is a privately endowed, coeducational university with nine colleges emphasizing career education and experiential learning. With a student body of more than 17,600, the campus occupies 1,300 acres in suburban Rochester, the third-largest city in New York State. RIT also has international campuses in Eastern Europe and Dubai. More information can be found by visiting the RIT website http://www.rit.edu/overview/
A part of the university since 1967, the National Technical Institute for the Deaf is one of the nine colleges of Rochester Institute of Technology. More than 14,000 undergraduate students from around the world, including more than 1,300 who are deaf or hard of hearing, come to campus every year to take advantage of the benefits of an RIT/NTID education. More information can be found by visiting the NTID website http://www.ntid.rit.edu/about.
About CaptionSync™
CaptionSync is an innovative, proprietary software service powered by Automatic Sync Technologies, providing high-quality automated captioning with unrivaled speed at a fraction of the cost of conventional captioning. The simple user interface accepts electronic submission of program media and returns standard-format caption files for web-media such as Flash, QuickTime and Windows Media, for platforms such as Ensemble Video, Kaltura, Mediasite, Brightcove, Echo360, Panopto and YouTube, or for DVD authoring and broadcast. CaptionSync can simultaneously generate caption output for multiple types of media from a single submission. AST's CaptionSync provides the Gold Standard in accuracy because it does not rely on speech recognition software and its inherent errors—AST stands apart from other providers of automated captioning for this reason.
About Automatic Sync Technologies
Automatic Sync Technologies (AST) is an industry-leading provider of web-based captioning services for thousands of customers worldwide, enabling accurate video and rich media search and retrieval to public and private sector enterprise. Formed in 1998 and funded in part by an SBIR (Small Business Innovation Research) grant, AST pioneered the automated captioning technology to deliver the most cost-efficient, high-quality, automatic captioning service available today. AST helps government agencies and educational institutions comply with regulations to make advanced communication services accessible to hard of hearing and deaf audiences. Contact AST by email info(at)automaticsync(dot)com, online at http://www.automaticsync.com, or call +1 (877) 278-7962
All product and company names herein may be trademarks of their registered owners.