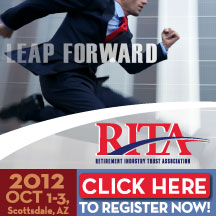 "As a former securities regulator, I found the conference to be a great way to obtain the latest information on important topics related to self-directed IRAs and how to educate investors" says Denise Voigt Crawford, Former Texas Securities Commissioner
Sarasota, FL (PRWEB) August 17, 2012
Retirement Industry Trust Association (RITA) today announced the industry's first certification program for experienced IRA professionals. This prestigious Self-directed IRA Professional (SDIP) program is part of the new RITA IRA Institute. The first course will be offered in Arizona, October 3-5, following the RITA educational conference on October 1-3 at the Montelucia Resort & Spa in Paradise Valley, AZ.
The Self-directed IRA industry is growing quickly as investors seek alternatives to stocks, bonds and mutual funds. "The SDIP certification will recognize that the individual who achieves it, has reached the highest level of knowledge in the self-directed investing industry, and is therefore, qualified to pass that knowledge along to self-directed investors" according to Tom Anderson, President of RITA.
Master New Self-directed IRA Rules at Upcoming Conference in Arizona, October 1-3
By attending presentations and panel discussions by carefully selected industry experts, retirement professionals, financial advisers, attorneys and trust company executives will gain the information they need to expand their services and address their clients' concerns about alternative investing with retirement funds. "As a former securities regulator, I found the conference to be a great way to obtain the latest information on important topics related to self-directed IRAs and how to educate investors" says Denise Voigt Crawford, Former Texas Securities Commissioner.
Sample Conference Topics:
√ Crowdfunding: How to Raise Capital Under the JOBS Act
√ Pros & Cons of Arbitration vs. Litigation
√ How to Detect & Reduce Fraud
√ Enterprise Risk Management
√ ERISA Updates- Everything you need to know
√ And a lot more!
Register Today & Save $100. Early Bird expires 8/31/12
About RITA
About the Retirement Industry Trust Association (RITA)
The Retirement Industry Trust Association (RITA) is a non-profit 501-c6 corporation whose goal is to help improve and expand opportunities for all Americans to invest and save for their retirement. We're a professional trade association committed to the continued growth and expansion of self-directed retirement plan administration. Since 1987, we have been preserving and promoting individual and group retirement plans through targeted legislative efforts as well as regulatory concerns. For more information, visit http://www.ritaus.org, or call (941) 724-0900.
###