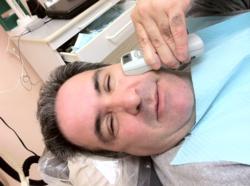 "I have been using my Scenar device for several years and it has been a tremendous
aid for me, both personally and with my patients, in eliminating or greatly reducing
pain and swelling" says Dr Hatland
(PRWEB) March 30, 2012
The FDA cleared medical device for pain management is now helping patients recover more quickly following routine dental procedures. "The RITM SCENAR device has completely eliminated post-op pain and inflammation after root canal treatment, oral surgery, extractions, periodontal procedures, and TMJ and muscle pain, many times after only one 10 or 15 minute application usually done by the patient. I do not like practicing dentistry without a RITM SCENAR device nearby," says Dr. Hatland, a 2011/12 Top Doc Chicago dentist and member of the Holistic Dental Assoociation.
Dr Hatland welcomes patients to his holistic family dental practice on the north side of Chicago. He has many traditional and alternative techniques, providing gentle quality dentistry that can not only remove oral disease and give you a dazzling smile, but will also increase your biological health and enhance the life energy and sense of well being in your body.
A Las Vegas based company; Scenar Health will be exhibiting the new device at the Holistic Dental Association35th Annual General meeting at Burlingame, CA from April 18 -20.