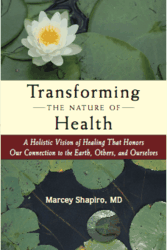 "Marcey Shapiro MD challenges the conventional thinking of modern medicine & invites a new perspective that will help transform health & health care."
—Helen Gracie, cofounder of Scenar Health
(PRWEB) March 16, 2012
Transforming the Nature of Health(North Atlantic Books, 2012) is set to radically alter the way we think about our health. The author, Marcey Shapiro, MD, is a family physician who has extensive training and experience in many areas of natural medicine, including Western and Chinese herbal medicine, acupuncture, mind body techniques, flower essences, homeopathy, breathing techniques, nutritional therapies, RITM SCENAR®, and hands-on modalities such as Ortho-Bionomy® and Biodynamic Osteopathy. Dr. Shapiro's approach to care is patient-centered and participatory; she works with patients to address the many facets of illness/imbalance—biophysical, psychological, and spiritual—and creates realistic treatment plans that incorporate a variety of modalities.
Conventional medicine often depicts health care as a war against germs and disease. In her book, Transforming the Nature of Health, Dr. Shapiro offers a more peaceful and effective alternative. Weaving together quantum theory, philosophy, and spirituality, Dr. Shapiro opens the door to a fresh understanding of health based upon love and interconnection.
"Conventional Western medicine is akin to a battlefield. Physicians aggressively fight disease; pharmacists synthesize ever more powerful chemical weapons; patients wage war on bacteria using arsenals of alcohol sanitizers. This approach is clumsy and heavy-handed, but it does work—sometimes. When it doesn't, a radically integrative method may be called for. In Transforming the Nature of Health, Marcey Shapiro presents her holistic, highly effective approach, which is based on a recognition of the interconnectedness of all life and the incredible healing power of loving, symbiotic relationships," says Dean Radin, PhD, senior scientist at the Institute of Noetic Sciences.
From reconsidering our relationship with nature to probing the underlying violence of the language of disease, Transforming the Nature of Health turns many of our assumptions about health, disease, and friend/enemy dichotomies upside down. Dr. Shapiro argues that compassion and cooperation are the keys not only to health, but also to a future in which mind, body, and planet are in harmony. "Marcey Shapiro articulates the perfect prescription for better health: focus on positive energy, forgiveness, and love and where appropriate utilize new technologies and therapies that harmonize with nature to restore balance in our bodies and our lives. She challenges the conventional thinking of modern medicine and invites a new perspective that will help transform health and health care," comments Helen Gracie, cofounder of Scenar Health, a leading distributor of the non- invasive medical device for pain management, RITM SCENAR®. The RITM SCENAR® device helps the body regulate naturally, without drugs and is FDA cleared for acute chronic and post-operative pain management and registered for relaxation training and muscle re-education.
Drawing on anecdotes from Dr. Shapiro's 20 years of experience in medical practice as well as her mystical and natural experiences, the book offers inspiring examples of medical advances that honor our interconnectedness. For those ready to turn philosophy into action, Transforming the Nature of Health also includes practical tools like breathing techniques, tips for self-examination, and methods of expanding awareness. Practitioners of conventional and complementary medicine alike will find an original perspective on health and healing.
Transforming the Nature of Health is about more than putting patches on a broken system. It's about recognizing that the mind/spirit split in contemporary science constrains us as evolving beings and keeps us from achieving true wellness. With her special blend of memoir, new science, and philosophy, Dr. Shapiro invites readers to create a new language and science that unites our innermost selves, bodies, each other, and the natural world.