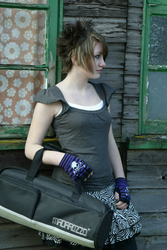 Being chosen as the exclusive distributor for Madarozzo products for the USA is very exciting
New York, NY (PRWEB) October 14, 2009
MRBagz LLC - Ludington, Michigan successfully launched the Madarozzo Gig Bag and Case Couture in USA. Madarozzo CEO Martin Ritter and MRBagz Owner Jeffrey Nixon closed the exclusive USA Distribution deal after the Winter NAMM show. "Being chosen as the exclusive distributor for Madarozzo products for the USA is very exciting," said Nixon.
One of the major driving forces in changing the way the world views musical instrument bags and cases is Martin Ritter who in the 1990s developed a brand which bears his name. During the last 10 years Martin Ritter has demonstrated that his product concepts are not only accepted by professional musicians globally, but also embraced by hundreds of thousands of musicians every day as 'their' choice of product.
Martin Ritter has now not only launched a new gig bag and case couture, but also a new company responsible for the their design, manufacture, sales, and marketing.
Martin's company, Creative Bags and Cases Ltd. was established in the UK in 2007. After extensive product design and development in conjunction with his British Design Team, he launched his unique retro styled Madarozzo Gig Bag and Case Couture line at the Frankfurter Musikmesse in 2008, to what can only be described as an extremely positive response from the international music market. A leading UK magazine wrote, "The Madarozzo boutique gig bag range is a fusion of design, functionally and protection for all guitars and fretted instruments and has now become the expected standard in this highly competitive industry, oozing with style and aspirational value."
The Madarozzo Gig Bag and Case Couture line now has distribution in almost all major global markets and has a growing fan base. Following the request of many musicians and Madarozzo fans a site offering Fan Merchandise has been introduced. Madarozzo is widely seen as a very trendy and up and coming brand for musical instrument bags and cases. Martin continually works to bring new products to the music industry with a retro fashion feel at great prices and top quality.
The Madarozzo line now has over 180 specialized products offering musicians not just a gig bag or case but also a choice of subtle colours and price points while incorporating a minimalistic retro design.
The folks at MRBagz LLC are proud and excited to have been chosen as the exclusive US Distributor of the Madarozzo line. They have 90 years of cumulative experience in music performance and in retail. They have seen the musical landscape change and know what is important to the independent dealer: quality, style, selection, availability and a level playing field, to name but a few. And here's a big extra: Madarozzo Bags and Cases will only be available to a selected group of retailers. "We believe in the Independent Music Store," says Jeff Nixon.
Earlier this year Martin Ritter's company has obtained the HOYER brand name and trademarks with the aim to bring Hoyer Guitars Est. 1874 to the global market and endeavour to preserve and build on its long heritage.
###