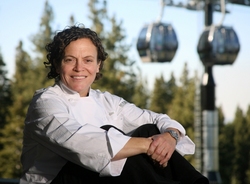 Skiing and cooking have always been two passions of mine and I'm thrilled to now have a destination restaurant in the gorgeous Ritz-Carlton Highlands
North Lake Tahoe, CA (Vocus) December 12, 2009 -
James Beard Award Winning Chef Traci Des Jardins announced today that her new restaurant Manzanita is now open in The Ritz-Carlton Highlands, Lake Tahoe in Northstar Resort, located mid-mountain. Just in time for the holidays, both the resort and Manzanita have opened their doors and welcome guests to come enjoy the holidays and the winter ski season on the mountain.
Full Video News Release Is Available Today:
Downloadable B-roll will be available at approximately 10 am on December 11, 2009
Footage to include panoramic video of The Ritz-Carlton Highlands resort with new snowfall.
Brief footage of Opening night of Manzanita
Brief interview with Traci Des Jardins, Chef/Partner at Manzanita
Footage of stunning interiors of Manzanita and The Ritz-Carlton Highlands, Lake Tahoe
Total VNR Length - approx 4 minutes
Video News Release Available at: http://www.tahoemediacenter.com/091211_ritz_manzanita
Manzanita named for the ubiquitous California tree is a beautiful 94-seat restaurant along with a 71-seat bar and lounge area inside The Ritz-Carlton Highlands, it is all about the kitchen and acclaimed chef Traci Des Jardins. From the moment you enter the restaurant, the design radiates warmth, texture and natural materials. The open kitchen is visible from all vantage points in the restaurant, showcasing the chef's organic cuisine. Manzanita includes an eight-person chefs table along with a tasting counter adjacent to the open exposition kitchen. The restaurant faces out onto the slope side terrace of Northstar-at-Tahoe with a sweeping view of the slopes and the outdoor seating on the fireside terrace. "We wanted the restaurant to have an authentic feel, so the materials are real, stone, leather and wood," said Bill Johnson, principal of The Johnson Studio, the restaurant designers. "The space has a warm, modern feel and yet is appropriate to Tahoe," he added.
"Skiing and cooking have always been two passions of mine and I'm thrilled to now have a destination restaurant in the gorgeous Ritz-Carlton Highlands," said chef Traci Des Jardins. "After a day of alpine activities and physical exertion I want people to sit back and relax while they enjoy a hearty and delicious meal at Manzanita. Our goal is take inspiration from the mountains and the seasons and to prepare quality food that has been sourced locally whenever possible."
The Manzanita menu is a combination of Des Jardins' signature French inspired California cuisine, with a regional mountain resort influence, sourcing organic, sustainable and locally grown meat and produce when available. The menu ranges from bar menu items of Fried Olives, Herbs de Provence ($8), Liberty Farms Duck Meatballs with Mission Figs and Lucques Olives ($12), Dungeness Crab Sliders ($14), Oysters on the Half Shell, Champagne Mignonette and Fresh Horseradish (AQ), Five Dot Ranch Grass-fed Burger, Homemade Pickles, Smoked Bacon and Pommes Frites ($15); to starters of Roasted Beet, Chevre and Winter Citrus Little Gem Salad ($12), TDJ's Warm Bread Salad ($14), Pizza of the day (AQ); to entrees featuring Red Wine Braised Short Ribs with Horseradish Mashed Potatoes and Herb Salad ($28), Moroccan Tagine, Cous Cous, Chickpeas, and Dried Apricots, Cumin-Scented Pinenuts ($24), to Rotisserie Chicken, Chanterelle Mushrooms, Parsnips and Pears and Crispy Farm Egg ($26). Desserts include Warm Bread Pudding with Kumquat Marmalade and Bourbon Crème Anglaise ($9), Butternut Squash Soufflé with Mascarpone and Brown Sugar Ice Cream ($9), to Chocolate Lava Cake with Champagne-Passion Fruit Sorbet ($9). More information and the complete menu can be found at http://www.ManzanitaLakeTahoe.com.
In addition to Manzanita, Des Jardins recently announced that she is opening two new San Francisco restaurants spring 2010. Public House located adjacent to AT&T Park the home of the San Francisco Giants is designed to be a year-round destination for great sports watching with a menu that takes a local and sustainable approach to classic pub food and will feature one of the largest draft beer and cask ale offerings in San Francisco. Des Jardins will open her second Mijita taqueria also located at AT&T Park. Mijita is a taqueria with a Bay Area flavor and will feature Mexican food from Traci's childhood, which was inspired by her maternal grandmother, Angela Salazar.
Traci Des Jardins is also co-owner of Jardiniere Restaurant located near San Francisco's Civic Center area and the Opera House. Prior to opening Jardinière, she spent time in Los Angeles and New York working with some of the country's top chefs, further honing her craft in France where she apprenticed with legendary chefs including Michel and Pierre Troisgros, Alain Senderens, Alain Ducasse, and Alain Passard. In 1998, Traci opened Jardinière and has made it one of the most sought-after reservations in San Francisco. Des Jardins was raised on a farm in California's San Joaquin Valley and developed a deep love for the earth and its bounty at an early age. The Des Jardins dinner table featured produce from the garden and game from the land in dishes reflecting her family's rich Mexican and Louisianan-French Acadian heritage. She had first dreamed of being a downhill ski racer and then a veterinarian, but always found herself drawn to the heat and creativity of the kitchen. Manzanita gives Des Jardins the opportunity to merge both her love for skiing and culinary excellence in her new Lake Tahoe destination restaurant.
The Ritz-Carlton Highlands, Lake Tahoe is the first new-build resort development in the Lake Tahoe area in decades. Anticipated to be the premier Northern California contemporary mountain retreat, the $300 million project, situated mid-mountain in the Northstar at Tahoe ski area features ski-in, ski-out access with mountain concierge services. The Highlands Spa is a 17,000 square foot spa and fitness center with treatments and therapies themed around water and the woods. The new Highlands Gondola also opens today and will connect guests between the nearby Village-at-Northstar and The Ritz-Carlton Highlands, Lake Tahoe resort. Perched slope-side within a 15 minute drive of both Lake Tahoe and the historic town of Truckee, the year-round destination includes 170 guest rooms, 23 private Ritz-Carlton Residences and 25 Ritz-Carlton Destination Club residences.
###