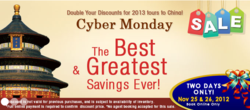 Best Quality and Value in Travel
Alhambra, CA (PRWEB) November 24, 2012
AffordableAsia.com and RitzTours.com are offering vacation package discounts on Cyber Monday to destinations across China. Both sites' offers are set to run on November 25, 2012 and November 26, 2012, offering customers a limited window of time to receive additional discounts on China vacation packages for 2013. These vacation packages include air, hotel, airport transfers, meals and guided tours. Destinations available include Beijing, Xian, Shanghai and more. To make sure the message is quickly spread, they have partnered with LAD Solutions, a respected online marketing firm, to help distribute this sale nationally.
The Cyber-Monday Special sale offered by Ritz Tours is named "Double Your Discounts." This sale pricing is being offered on both the China Premiere Series travel packages and the China Deluxe Series travel packages for the upcoming 2013 year. The deals allow customers to increase their savings if they purchase a package during the Cyber Monday offer as the savings will be combined with a current ongoing offer that Ritz Tours is running for an early booking discount of up to $300 per guest for booking a tour before December 14, 2012.
The "Double Your Discounts" offers are set to expire at the end of the day on Monday and are only available to customers that purchase one of these packages via the RitzTours.com website. Customers can expect the discounts to be applied at checkout.
According to the RitzTours.com website, the China Premiere Series travel packages include private dining, Victoria Cruises executive suites, 5-star hotel accommodation upgrades to executive or club floors, and guided tours. Travel insurance may also be included with coverage for cancellations if the trip is paid in full 60 days before the date of departure. The site also offers three package options under the China Premiere Series which differ slightly in the duration of the stay for guests as well as the locations to be visited.
The website names the China Deluxe Series of packages as value options for travelers while offering some similar amenities including 5-star hotel accommodations and exclusive dining choices. The China Deluxe Series of travel packages, however, offers a bit more variety with regards to length of stay options and destinations as there are eight different packages currently offered on the website. Major city destinations offered by these packages include Beijing, Xian, Shanghai, Hong Kong, Guilin and more.
At Affordable Asia, customers that are interested in booking the China and Yangtze River 14 Days/12 Nights Tour package for 2013, will receive a special bonus as part of the Cyber Monday sale which is a free upgrade to the Executive Deck Accommodation on board the luxurious Victoria Cruises.
About Ritz Tours: Ritz Tours, Inc (http://www.ritztours.com) has more than 30 years of experience in China and Asia travel. The company strives to provide "the best quality and value in travel" and they offer packages that include a range of activities including tours, entertainment, and sightseeing in popular destinations. Ritz Tours is an active member of several travel organizations including the United States Tour Operators Associaton (USTOA), American Society of Travel Agents (ASTA) and the International Airlines Travel Agents Network (IATAN). Ritz Tours is also the parent company of Affordable Asia, whose website is located at http://www.affordableasia.com.