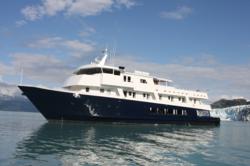 I've always been zealous in my advocacy of journeys I've liked, and I hope that you are infected with that enthusiasm and follow suit
Mill Valley, CA (PRWEB) March 27, 2012
What would be the dream vacation for the aspiring nature and travel photographer? How about traveling to one of the world's premier destinations for scenic, nature and wildlife viewing and getting hands-on instruction from a National Geographic Magazine photographer? Bay Area's CruiseOne Mill Valley, offering cruise discounts, adventure travel and river cruises, is currently offering such an opportunity.
"It's an easily done deal," San Francisco Bay Area adventure travel and cruise specialist Steve Faber said. "We're very excited about offering voyages on National Geographic Expeditions' naturalist-led cruises. Every sailing has a National Geographic-certified photo instructor onboard, and the line's flagship, National Geographic Explorer, has a Geographic staff photographer on every departure. While some folks come home from typical vacations with a T-shirt, participants on these voyages can come home with a coffee table book created from their own photos!"
Faber is a perfect choice to guide and counsel potential guests for the National Geographic (NatGeo) photo expeditions; a renowned travel photographer himself, he has more than a thousand photo sales to his credit, most in exactly the same genre that the National Geographic Expeditions offer. As part of his service in booking, follow-through and follow-up, Faber will provide expert assistance in preparing for these unique departures, including packing and equipment familiarization, as well as photo editing upon the client's return.
This vacation is not only suitable for the near-pro-level shutterbug with thousands of dollars worth of state-of-the-art esoteric gear. The cruise programs are targeted to all skill levels, from beginner to pro, and acceptable equipment ranges from the smart phone in a client's pocket to the gear maven who travels with so much equipment his checked baggage rivals that of a major pop diva.
National Geographic Expeditions offers three levels of programs:
1) On all sailings, a National Geographic-certified photography instructor is present as a knowledgeable traveling companion. They are there to answer questions and provide guidance in maximizing photo quality through technique and choice of subjects.
2) On all sailings of the line's flagship, National Geographic Explorer, a National Geographic working photographer will provide more intensive instruction, including how to shoot winning photos in the field by accompanying passengers on shore excursions, hikes and Zodiac explorations.
3) On dedicated "Photo Expeditions" the photography is far and away the most important aspect of the cruise, with in-depth daily instruction, presentations, slideshows and critiques. Photographers and instructors will also conduct fun and useful exercises, such as sending passenger-photographers on mock assignments to bring specific photos back to the ship for review and sharing. The final cocktail hour on the last night of the cruise is dedicated to guest slideshows.
Cruise destinations include the Galapagos, Alaska, British Columbia, the Arctic and the Antarctic, including the Falklands and South Georgia Island, which is so rarely visited that the only thing the resident elephant seals and penguins feel about human visitors is curiosity.
"I've always been zealous in my advocacy of journeys I've liked, and I hope that you are infected with that enthusiasm and follow suit," Faber said. "Short of the travel experience, itself, there's nothing more satisfying than getting feedback that someone took a trip you recommended and loved it."
To book a National Geographic Expedition or for more information about any of CruiseOne Mill Valley's products or services, call 415-322-3523 or view the cruise discounts service on the web at http://www.greatshiptrips.com.
About CruiseOne Mill Valley
Traveling the world as a travel writer to report on cruises, Steve Faber has been blessed with the opportunity to sail on 98 cruises on 71 ships of 31 cruise lines. As an independent CruiseOne cruise specialist, Faber capitalizes on combining his knowledge of ships and destinations with the powerful marketing clout and superlative client service of CruiseOne, the world's largest seller of cruise vacations. Faber serves the Bay Area. Contact him to discuss cruise itineraries, cruise discounts, adventure travel, river cruises and more.