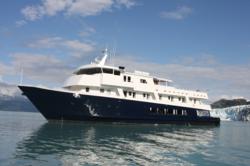 I've always been zealous in my advocacy of journeys I've liked, and I hope that my readers are infected with that enthusiasm and follow suit
Mill Valley, CA (PRWEB) November 04, 2011
Steve Faber, Marin-based travel writer/photographer has just opened CruiseOne of Mill Valley, an agency specializing in Bay Area adventure travel by sea, part of the 600-plus member network of independent cruise specialists in the Cruise One system.
Aside from the offering mainstream and luxury cruises to destinations like Hawaii, the Caribbean and Mexico, Faber's agency offers niche cruises – small ship voyages that include naturalist-led expedition and eco-cruises, river cruises, exotic under-visited itineraries, and even yacht charters. There is also several affordable cruises that can appeal to the middle class/middle income traveler.
One such niche cruise would be a series of voyages aimed at photography hobbyists where National Geographic Magazine photographers will conduct onboard and in-the-field guidance and instruction. The sailings will include pre- and post-cruise access to a private website for everything from instructional videos and webinars to packing lists to "show and tell" and photography competitions.
Working in partnership with a top-notch yacht charter broker, Steve can offer clients a choice of literally a thousand individual yachts for everyone from avid sailors who want a DIY trip to folks who prefer to do nothing at all. These sailings are 100 percent tailored to the client's preferences and wishes.
Though some might see a disconnect between journalism and his new endeavor, Steve sees one as an extension of the other.
"I've always been zealous in my advocacy of journeys I've liked, and I hope that my readers are infected with that enthusiasm and follow suit," he says. "Short of the travel experience, itself, there's nothing more satisfying than getting feedback that someone took a trip you recommended and loved it. Now I can actually help create that follow-through."
For more information, contact CruiseOne of Mill Valley at (415) 388-0100 or visit them online at http://www.greatshiptrips.com. Cruise One of Mill Valley is located at 17 Escalon Drive Mill Valley, CA 94941.
About Cruise One
Bay Area cruise discount agency, CruiseOne has received numerous awards and a top ranking status by all the major cruise lines. With more than 650 locations coast to coast, Cruise One prides itself on providing attention to detail and expert advice to every customer. Each independently owned and operated business combines the latest technology with old-fashioned customer service. Their computerized best fare search program enables cruise specialists to identify excellent values on all major cruise lines. CruiseOne agents are experts in both group and individual sailings. Programs ranging from family reunions at sea and honeymoon cruises to corporate meetings, incentives and ship charters are handled courteously and professionally.
###