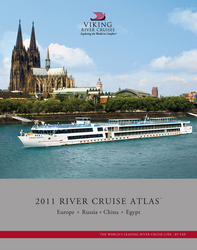 The 2011 Atlas represents the start of a whole new season for river cruising.
Los Angeles (Vocus) April 7, 2010
Viking River Cruises, the world's leading river cruise line, has announced the availability of its 2011 River Cruise Atlas™, featuring one new vessel, several ship refurbishments, two new itineraries and a value-packed Early Booking Discount.
"We are once again very proud to present our annual River Cruise Atlas," explained Torstein Hagen, chairman of Viking River Cruises. "The 2011 Atlas represents the start of a whole new season for river cruising. But this year it is especially significant as it also represents our tenth anniversary of offering high quality, all-inclusive travel opportunities along the world's most scenic rivers."
The company has also announced its best-ever Early Booking Discount. Guests can take advantage of savings which includes 2-FOR-1 cruise plus up to 2-FOR-1 roundtrip international air plus complimentary wine, if they act by May 28, 2010.
"As people became more familiar with all its benefits, river cruising's popularity has increased considerably over the past decade," Hagen continued. "Because of the intimate size of our ships, the all-inclusive nature of our programs, the excellent Early Booking Discounts and the overall demand, we encourage travelers to book now and lock-in their first choice in itinerary, departure date and stateroom category, before the most popular programs are sold out."
Itineraries
Viking River Cruises, who is offering 20 itineraries in 2011 ranging from 8 to 17 days in length, is the only river cruise company to operate in the five regions of Europe, Russia, Ukraine, China and Egypt. While the majority of its river cruises are in Europe, the company is also a Russia specialist with a comprehensive journey along the Volga, Neva and Svir between Moscow and St. Petersburg and one trip through Ukraine between Kiev and Odessa. In China, Viking has the very best ship, featuring all-balcony staterooms and fully equipped Western-style kitchens. The company's three China "cruisetours" take visitors to China's highlights, including Beijing, Shanghai and the Terra Cotta Army in Xian, plus a Yangtze River cruise. Viking also has 9-12 day itineraries in Egypt which feature hotel nights in Cairo to visit the Great Pyramids in Giza along with a Nile River cruise and Lake Nasser cruise (on select programs).
For the 2011 season, Viking is introducing two new itineraries. The 11-day Passage to Eastern Europe itinerary features an 8-day Danube River cruise through five countries including Hungary, Croatia, Serbia, Bulgaria and Romania, bookended by hotel nights in Budapest and Bucharest to allow more time for exploration in these fascinating cities. The 12-day Pharaohs & Pyramids cruisetour explores the best of Egypt with hotel nights in Cairo, plus a 4-night Nile River cruise and a 3-night Lake Nasser cruise.
In addition to the river cruise programs, Viking has renewed its commitment to offer exciting
Explore More™ pre- and post-cruise land extension packages. These add-ons provide opportunity to begin or end journeys with a few days in an interesting new city. Depending on itinerary, guests may spend time exploring the Baltic capital of Helsinki, exotic Istanbul or Nice along the French Riviera. Viking continues to offer its most popular land extensions in Amsterdam, Prague, Paris, Hong Kong & Guilin, Bucharest & Transylvania and more. New for 2011 are extension programs in Brussels, Belgium and Lucerne, Switzerland.
Ships
The new Viking Emerald will launch in 2011 hosting Viking guests on its China cruisetour itineraries. The Yangtze River's most elegant and newest ship will have the largest suites in river cruising, plus every stateroom features a full balcony. In addition to the two 840-square-foot Presidential Suites, Viking Emerald will also have 14 Suites and 4 Junior Suites among its 132 total staterooms on its five passenger decks.
Continuing its fleet refurbishment program, one Russia ship, Viking Pakhomov, will undergo a complete bow-to-stern renovation, offering two suites and 102 deluxe staterooms and all-new public rooms, and will be identical to its sister ships, Viking Surkov and Viking Kirov, making it the most deluxe fleet of ships sailing Russia's rivers. In addition, Viking is investing in its European fleet with the complete refurbishment of Viking Schumann, which sails along the scenic Elbe River. The ship will receive eight spacious deluxe staterooms in addition to other upgrades to its standard staterooms and public areas. Viking Schumann's renovations will match that of its sister ship, Viking Fontane, which was completely redone for the 2010 cruising season. All of these vessels will be updated to have the Viking signature look and feel of elegant Scandinavian design, similar to the company's most recent launch, Viking Legend.
"For the past 10 years, we have celebrated many successes," adds Hagen, who was also the former CEO of the prestigious Royal Viking Line, "including the launch of new ships, introduction of new regions and itineraries, excellent guest ratings and the ability to persevere through difficult socioeconomic times. We are eager to start our next decade and are dedicated to continuing to provide the highest quality, service and programs available on the rivers today."
Itinerary details, dates and pricing are available in the 2011 River Cruise Atlas and on the company's website at http://www.vikingrivercruises.com. For additional details, contact Viking River Cruises toll-free at 1-877-66VIKING (1-877-668-4546).
About Viking River Cruises
Viking River Cruises, the world's largest river cruise company, offers scenic cruising along the rivers of Europe, Russia, China and Egypt. The company has been honored multiple times as the top river cruise line on Condé Nast Traveler's "Gold List" and Travel + Leisure's "World's Best" Awards as well as recognized as the World's Leading River Cruise Operator at the World Travel Awards. Travel agents have also recognized Viking River Cruises as "Best River Cruise Line" by Travel Weekly, "Best River Cruise Line" by Recommend and Travel Agent magazines, Best Cruise Line for Luxury River Cruises at the Luxury Travel Advisor Awards of Excellence and as "Best Overall Cruise Line for River Cruising" and "Best River Cruise Line for Travel Agent Support" by TravelAge West. Since its 1997 inception, the company has grown to a fleet of 18 vessels, and provides unique, deluxe vacations to experienced travelers with an interest in geography, culture and history. For additional information, contact Viking River Cruises at 1 877 668 4546 (1 877 66VIKING) toll-free or visit the company online at http://www.vikingrivercruises.com.
###