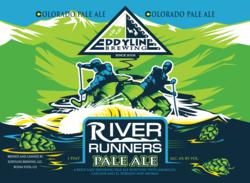 The River Runners Pale Ale will be available in six packs of 16 oz. cans at liquor stores across Colorado starting this spring
Buena Vista, Colo. (PRWEB) February 26, 2013
River Runners, a Colorado whitewater rafting company on the Arkansas River, announced that a local beer has been named after the long-time river outfitter – Eddyline Brewery's River Runners Pale Ale – and will be distributed throughout Colorado in April, 2013.
The River Runners Pale Ale, which has been crafted by Eddyline Brewery in Buena Vista, Colo. since May 2009, captured the International Style Pale Ale Gold Medal at the 2012 Great American Beer Festival in Boulder, Colo., according to Mic Heynekamp, owner, Eddyline Brewery.
"After the gold medal win we decided it was time to start canning our award-winning micro-brew," Heynekamp said. "The River Runners Pale Ale will be available in six packs of 16 oz. cans at liquor stores across Colorado starting this spring."
The gold medal beer got its name from River Runners, because of friendship and a love for whitewater rafting and kayaking, according to Heynekamp.
"We are good friends with the owners of River Runners, and we love running rivers so it was a natural fit," Heynekamp explained.
This version of Eddyline's pale ale was the first micro-brew offered at the River Runners Riverside Bar and Grill, which also contributed to its name, according to Kevin Meadows, owner, River Runners.
"The River Runners Pale Ale has been a great seller for us at the grill and we are honored to have this gold medal micro-brew named after our rafting company," Meadows said.
To help promote River Runners Pale Ale, the whitewater rafting company will be working with Eddyline Brewery to develop a contest using collectible coins that feature popular rapids on the Arkansas River, according to Meadows.
"We will offer collectible coins in select six packs with chances to win whitewater rafting vacations, River Runners merchandise and other great prizes," Meadows explained.
The River Runners Pale Ale will be canned at Eddyline Brewery in Buena Vista, Colo., according to Heynekamp. He said the beer is six percent by volume with a crisp and citrusy hop flavor.
Eddyline Brewery and Tap Room in Buena Vista, Colorado offers a wood-fired menu and is capable of producing more than 5000 barrels of beer per year. The facility is equipped with a four-head automatic canning line capable of producing 32 cans per minute.
River Runners offers guided Colorado whitewater rafting trips on the Arkansas River from the River Runners Royal Gorge Rafting Center in Cañon City, Colo. and the River Runners Riverside Rafting Resort in Buena Vista, Colo. Raft beginner to advanced whitewater on half-day, full-day and overnight rafting trips May – Labor Day. Learn more at http://www.whitewater.net.