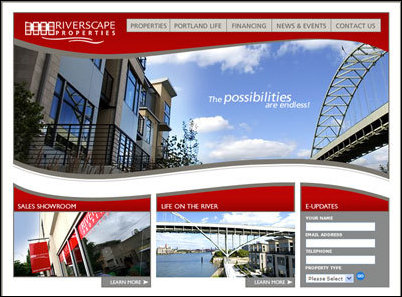 This website project came together quickly and we are very proud of the results
Portland, OR (PRWEB) July 13, 2006
Holdridge Technologies is pleased to announce the re-designed website for Portland Oregon's luxury waterfront community, Riverscape Properties.
Riverscape Properties is a .5 mile riverfront community adjacent to The Pearl bordering Portland Oregon's Willamette River north of the Fremont Bridge. The development features the Pacifica Condominium Tower, Townhomes, a future Marina and future Riverwalk.
Visitors to the website will be able to pre-qualify online using Riverscape's preferred lender Chase. Future plans for the website include virtual tours, interactive floor-plans and real-time availability through Portland's MLS.
Adam Holdridge, owner of Portland based Holdridge Technologies directed the website development effort. "This website project came together quickly and we are very proud of the results," said Holdridge. "The site is exciting, interactive and conveys the excitement of living at the water's edge."
Holdridge Technologies specializes in custom website development, technical training, web hosting, and tech consulting. The company recently relocated from Los Angeles California to Portland Oregon. Some featured clients include, Prudential Malibu Realty, Riverscape Properties, WebSky US, and Themes and Variations.
###