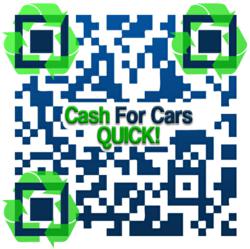 Riverside County's best cash for cars service provider CashForCarsQuick.com
Riverside, CA (PRWEB) July 04, 2012
More and more junk vehicle owners in Riverside now prefer to sell their discarded vehicles to Cash for Cars Quick instead of following the age old, irresponsible disposal methods. This praiseworthy change in their attitude has a lot to do with the recent introduction of cash for cars Riverside service by Cash for Cars Quick. The California based company is presently the most recommended of all cash for cars service providers in the country because of their genuine efforts to save the natural environment. Official reports from the company suggest that the business volume generated by the company during the month of May, has exceeded their own forecasted figure comfortably. To avail the most responsible disposal option for old cars in Riverside, please visit http://cashforcarsriverside.cashforcarsquick.com/.
Broken-down cars and trucks have always been a headache for their owners. These vehicles may not be worth fixing and are difficult to maintain, and most owners don't really know what to do with them. Many of these car and truck owners are not aware of the fact that these vehicles are highly dangerous for the future of our planet, too. Most of the cash for cars service providers in Riverside limit themselves to dumping these vehicles in junkyards following traditional methods like land filling. Cash for Cars Quick and its partners are different from them because they offer treatment facilities for all the hazardous chemicals, fluids, and solid objects before discharging them to nature. The company also makes all efforts to popularize the benefits of using greener technology for disposal of old cars and trucks. The company's hard work for the restoration of ecological balance in the region is reflected by their excellent business figure for the previous month. Nearly doubling what company believed its figures were projected, the company credits strong marketing and its commitment to having the best customer care.
To view the company's Facebook page visit http://www.facebook.com/CashForCarsRiverside
Inspired by the instant success in Riverside, the company is all set to all more vigor to their marketing efforts in the city, according to company sources. They have already hired a professional SEO company to reach out to the internet friendly car owners of the present generation. Reacting to the instant success of the company in Riverside, the CEO of Cash for Cars Quick William Leonard says," I would like to take this opportunity to thank all of you in Riverside for this support. With this type of support, we can surely make a difference to our planet in the long run".
About the Company: Cashforcarsquick.com is a growing cash for junk cars service that provides junk car recycling and provides high return to the car and truck owners in Riverside California and throughout the United States. The company and its partners follow environmentally friendly disposal practices to safeguard the future of the planet.
Contact:
William Leonard
Phone: 888-862-3001
Email: info(at)cashforcarsquick(dot)com