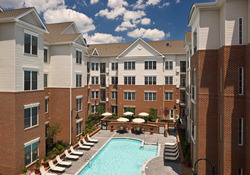 With our quick delivery opportunities, buyers will have time to close, move and still receive their credits!
Conshohocken, PA (PRWEB) February 3, 2010
D.R. Horton's The Grande at Riverview, Conshohocken, PA's premier condominium community will celebrate the Grand Opening of Building Three on Saturday, February 6th at 10am. This event will mark the much-awaited release of brand new one and two bedroom homes, priced from only $169,990.
"We are very excited to celebrate the Grand Opening of Building Three," said Jennifer Kelly, Sales and Marketing Manager D.R. Horton. "This community has received great feedback from buyers who love the quaint Conshohocken neighborhood and easy access to Philadelphia. With the opening of this new building, there are new opportunities for those who have been anxiously waiting for us to have one bedroom homes available again."
With Building Three slated for completion in late summer, first-time homebuyers can take advantage of quick delivery homes in Building Two, which will qualify for Federal Tax Credits. "Qualified buyers who purchase a home before April 30th can receive up to $8,000 in tax credits toward their new home," Kelly added. "With our quick delivery opportunities, buyers will have time to close, move and still receive their credits!"
The homes at The Grande at Riverview feature up to 1,693 square feet of living space, which includes up to two bedrooms, two baths, spacious living/dining areas, gourmet kitchens, large walk-in closets, and lofts on the fourth floor.
The community also features designated parking for residents with covered spots in Building Two, three fabulous courtyards and a fully equipped fitness center and outdoor pool. "The Grande at Riverview is truly a unique lifestyle community," said Kelly. "We offer beautiful home designs, picturesque landscaping, on-site lifestyle amenities, plus an ideal location!"
Conshohocken is ideally located only 12 miles from Center City, Philadelphia making the Grande at Riverview perfect for commuters, according to Kelly. "We are also within walking distance to the SEPTA R-6 station," she added.
For more information please visit DRHorton.com/PA or call 610-828-3877.
*Prices, included features, availability, and delivery dates are subject to change without notice or obligation. Square footages are approximate. Exterior elevations shown are an artist's conception and may vary from elevation built. Terms and conditions subject to credit approval, market conditions, and availability. © 2010 D. R. Horton. Printed on x/x/2010. Federal tax credit of up to $8,000 available to first-time homebuyers (or up to $6,500 for repeat buyers) who close escrow on or before April 30, 2010 (or before July 1, 2010 if a binding contract is signed by April 30, 2010). Income limitations apply. Amount of tax credit, if any, is not paid to buyer upon close of escrow. Buyer must claim the tax credit on buyer's federal income tax return. Not all buyers will qualify. This information is provided for general guidance only and does not constitute tax advice. Please consult an accountant or attorney for your particular situation. Visit http://www.federalhousingtaxcredit.com for complete details.
###