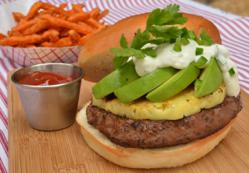 Charlie Wants a Burger® will dish up All-American comfort foods for breakfast, lunch and dinner as well as draft beers and margaritas in a family-friendly, relaxed setting with a dog-friendly riverside patio
San Antonio, Texas (PRWEB) June 12, 2013
Locally owned and acclaimed Paesanos Restaurant Group has opened their new restaurant and sports bar, Charlie Wants a Burger® on May 25, 2013. Named for and inspired by Charlie, a personality-packed Jack Russell Terrier and his mealtime antics, the restaurant is located on the scenic San Antonio River Walk at 223 Losoya.
Charlie Wants a Burger® will dish up All-American comfort foods for breakfast, lunch and dinner as well as draft beers and margaritas in a family-friendly, relaxed setting with a dog-friendly riverside patio. Ten percent of all merchandise sales from Charlie's Market, the restaurant's gift shop for man and his best friend, will benefit the San Antonio Humane Society.
House specialties are an assortment of 10 different burgers made from certified Angus Beef, 80% chuck and 20% brisket on signature brioche buns. Variations include the Local, dressed with refried beans, Fritos, choice of cheese and pico de gallo or the San Antonio Luau with a grilled pineapple, sliced avocado atop an 8 oz patty and finished with a sweet cilantro jalapeño crème. Massive appetites can take the 2-pounds Unleashed Burger challenge that feeds up to four. Specialty sauces, salsas and exclusive condiments like Green Gawdess, Smoky Chipotle Mayonnaise and Wasabi Ketchup allow customization of burgers and hot dogs.
Not just burgers, the menu offerings include: breakfast tacos, Ooey-Gooey Cinnamon Rolls, artisanal sandwiches, all-beef hot dogs, house made crispy potato chips, salads, vegetarian and kid's choices. Uncle Charlie's® homemade ice cream and milkshakes include delicious standard flavors; vanilla, chocolate, and strawberry and Eight-gauge Shotgun with Jack Daniels whiskey and the signature Dalmatian Milkshake – with chocolate chips and Oreo cookie crumbs.
Charlie Wants a Burger's® sports bar will pour house-made sangria, handcrafted margaritas made with freshly squeezed limes and specialty margaritas the Top Dog made with Peligroso Silver Tequila and the naturally-hued, bright pink Cactus Pear.
Charlie Wants a Burger® has a special to-go menu for dogs served in doggie bags including peanut butter biscuit Charlie's Burgers and Whatta Good Boy Biscuits in assorted dog tasty flavors bacon, peanut butter, milk, chicken and vegetable.
Open seven days a week, Charlie Wants a Burger® serves breakfast 7:30 a.m. – noon, lunch and dinner are served daily, Sunday – Thursday 11:00 a.m. – 10 p.m. Friday – Saturday, 11:00 a.m. – 11:00 p.m. Daily Happy Hours are 2:00 p.m. – 6:00 p.m.
###
About Paesanos Restaurant Group
Joseph Cosniac established Paesanos in 1969, and after continuously operating for 44 years, Paesanos continues to be ranked among the best restaurants in San Antonio. Mr. Cosniac continued to expand his restaurant holdings over the past 3 decades to include: Paesanos Riverwalk, Paesanos 1604, Paesanos Lincoln Heights and Rio Rio Cantina including Mezzaluna and The Cantina in Aspen, Colorado under the Paesanos Restaurant Group. The restaurants range from classic Italian, contemporary Mediterranean and California Tex-Mex to American cuisine. Each restaurant is distinctive, but all are bound together by the desire to exceed expectations and provide a memorable dining experience. For more information visit http://www.prg-sa.com.
Note to Editors: 300 dpi JPG photos of Charlie and menu items are available upon request.
twitter.com/cwabSA
facebook.com/CharlieWantsABurger