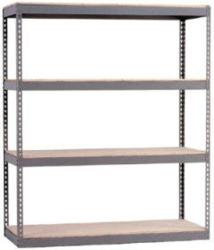 A Plus Warehouse Makes Custom Shelving into Standard Shelving!
Boston,MA (PRWEB) May 31, 2013
A Plus Warehouse has been selling double rivet shelving for well over 15 years and it has been a stable line. Recently, customers have been requesting 60 inch wide shelving. A traditional shelving unit can be 48 inches wide or 72 or 96 inches. 60 inches is an excellent width in the middle of the size range. By adding 60 inch wide span shelving to the offering at A Plus Warehouse, customers can stay at the A Plus Warehouse website to order this size instead of searching for a special quote. According to Ed Stairman, "There is no reason to make a customer request a special shelving unit. A Plus Warehouse makes special orders standard orders!"
It has been A Plus Warehouse philosophy to make the ordering and quoting process customer friendly while encouraging customers to interact. Many younger customers prefer hands off dealing by way of an integrated shopping cart or emails. Other customers prefer to call an 800 number. A Plus Warehouse offers customer-centric service to both groups of customers.
While changing the rivet racks page to add 60 inch wide stock , A Plus Warehouse also made a few other changes to the page.
(1) Wall bracket were added for support. These are especially important for California customers.
(2) Post Tie Plates were added so customers can secure one shelving unit to the next
(3) Shelving requires labels – A Plus Warehouse now offers adhesive and magnetic label holders designed just for the bulk racks sold at A Plus Warehouse
(4) A Plus Warehouse has rolled out the color tan. Traditionally , the only color available for bulk racks was gray
A Plus Warehouse double rivet bulk racks are in great demand because they are so versatile. These units are offered with particle board decking, wire decking, melamine decking , or with open frames – for customers that provide their own decking.
For customers that intend to store heavier loads , A Plus Warehouse suggests the quality Durham heavy duty shelving or pallet racks. Pallet racks are used when loading is being accomplished with powered machines such as forklifts. A Plus Warehouse sells pallet racks in tear drop as well as Lynx style. For customer convenience, pallet racks are offered in components or fully appliance.
A Plus Warehouse sells shelving and racks nationwide and has trained sales people ready to help. If interested, customers are encouraged to call 800-209-8798 in USA or Canada to request any information. Other international customers should visit the A Plus Warehouse website and click the contact us button.