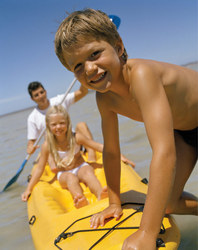 This all inclusive Riviera Maya resort offers world-class cuisine, luxurious accommodations and exclusive access to Tres Ríos Nature Park.
Riviera Maya, Mexico (PRWEB) April 17, 2010
Riviera Maya's leading green resort, Hacienda Tres Ríos Resort, Spa & Nature Park, will discount 35 percent from its rack rate during a special weekend sale as part of national efforts to increase tourism in Mexico.
The booking window for the vacation discount will be available from Friday, April 16th through Tuesday, April 20th and allows travelers to visit the popular Riviera Maya during the months of April, May and June.
As an added bonus to the vacation package, teenagers and kids stay free.
Located 45 minutes from Cancun International Airport, Hacienda Tres Ríos Resort is an all inclusive resort and spa in the heart of the Riviera Maya. The property's luxurious all inclusive plan gives access to a diverse range of world-class cuisine in all nine bars and restaurants on the property. Guests also have exclusive access to the Tres Ríos Nature Park which offers guests the opportunity to immerse themselves in the natural beauty of the region's mangroves, dunes and luscious tropical jungles of the Yucatan Peninsula.
The distinctive feature of Hacienda Tres Ríos is its successful combination of strict green practices and quality that exceeds the standards guests expect from an all inclusive resort and spa.
About Hacienda Tres Rios Resort
Nestled in a 326-acre pristine nature park in Mexico's Riviera Maya, Hacienda Tres Ríos is an endless luxury, all inclusive resort in the Mexican Caribbean only 45 minutes south of Cancun International Airport. Opened in November 2008, Hacienda Tres Ríos is the first resort of five at Tres Ríos Nature Park. The resort boasts 273 suites constructed using natural materials. At the forefront of sustainable tourism development, Hacienda Tres Ríos creates amazing guest experiences while continuing to protect the region's natural beauty and cultural heritage. The Tres Ríos Nature Park is open exclusively to resort guests, and offers guided nature tours through mangrove forests, snorkeling in cenotes and rivers, and daily activities for children. For more information, visit http://www.HaciendaTresRios.com.
# # #