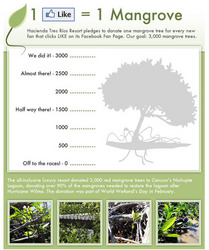 "I'm an official Hacienda Tres Rios Mangrove Donor."
Riviera Maya, Q.Roo, Mexico (PRWEB) October 15, 2010
The Riviera Maya eco-luxury resort, Hacienda Tres Ríos, has pledged to donate one mangrove tree for every new fan that joins by clicking "Like" on its Facebook Fan Page.
The countdown for the "1 Fan = 1 Mangrove" campaign began on October 7, 2010 with 3,385 Fans. The goal is to increase the number of Fan Likes to 6,385 and donating 3,000 mangrove trees to the reforestation program in Cancun.
New fans receive a "I'm an official mangrove donor" medal that they can share on their Facebook walls to let their friends know about their donation and invite them to receive a medal too by joining the Hacienda Tres Ríos Facebook Fan Page. Every new person that joins the page will have donated one mangrove tree just by becoming a fan.
Existing fans also receive a medal when they click "Suggest to Friends" and write on the resort's Facebook wall "I've suggested Hacienda Tres Ríos to my friends." They then receive a personalized medal to put on their wall.
The Riviera Maya beach resort is not new at contributing to global environmental conservation and is an avid environmentalist.
In February, the all-inclusive luxury resort donated 3,000 red mangrove trees to Cancun's Nichupte Lagoon in support of World Wetlands Day. This donation resulted in over 90% of the mangroves needed to restore the lagoon after Hurricane Wilma.
Recognized as a model of sustainable tourism, Hacienda Tres Ríos has planted and produced more than 80,000 mangroves in four years at the resort's plant nursery, located in Tres Ríos Nature Park.
Staff members have been involved in international programs such as Earth Day and Earth Hour. The resort has also hosted several eco-friendly forums and educational programs for local students.
Hacienda Tres Ríos recently received the Skal International Ecotourism Award and has been certified as an official ecological hotel by international organizations such as Green Globe International for two consecutive years. The resort is a member of Sustainable Travel International and works in cooperation with the Rainforest Alliance to support exceptional environmental practices. It has also received several prestigious awards for its sustainable tourism development and practices.
###