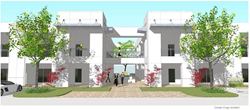 Azpurua's team obtained full funding in seven months to create Riviera Point Business Center. That's quick timing given the complexities of EB-5 requirements.
DORAL, Fla. (PRWEB) December 03, 2014
Riviera Point Development Group is launching construction of one of the Miami area's few new office condo developments in several years that targets small-space users. The $9.5 million, 41,000-square-foot Riviera Point Business Center at Doral is fully funded through job-creating, international EB-5 investment, according to Riviera Point Development Group CEO Rodrigo Azpurua, CCIM. The company is one of Florida's most active EB-5 developers, with three South Florida properties now underway under the federal Immigrant Investor Program.
Located at 9000 NW 89th Court and NW 15th Street in Doral, the lakefront two-story building designed by Corrales Group Architects is geared for small businesses looking to build equity in first-generation condo office space, at prices comparable to those for properties built before the economic downturn. Fifty-five percent of the complex's 825- to 1,530-square-foot office suites are presold, Azpurua said. Construction will begin this month, and he expects completion in first-quarter 2016. Office condos dominated the Miami market a few years ago, with about 4 million square feet under development just before the Great Recession.
"Now, with the Doral area's leasing rates and construction costs climbing as the economy strengthens, small companies with stable space needs are looking at owning their space to control future costs," explained Azpurua. Located five minutes from Miami International Airport and the Miami Free Zone, Riviera Point Business Center will provide easy access to the Dolphin Expressway/Palmetto Expressway (SR 826/SR 836) Interchange. For information contact Sales Manager Freddy Boulton at 954-588-4334 or freddy(at)rivierapmo(dot)com.
"Doral's population growth means opportunities for small professional firms, international trading companies, insurance agencies, title companies, marketing and technology businesses to serve a dynamic local community. Yet the existing supply of new, for-sale office space for companies needing 2,000 square feet or less is extremely limited," Azpurua said. The majority of the 2 million square feet of office space approved by the city will serve larger space users – regional, national and international companies that have fueled Doral's growth.
Market conditions support the developer's office condo strategy, with SBA and conventional loan interest rates at appealing levels. There's also a strong cultural component. Many Doral residents are entrepreneurs and professionals from Latin America, where it's typical for small businesses to own their office space, according to Azpurua, who was an attorney in his native Venezuela before immigrating to the U.S. with his family in 2001. Azpurua's team obtained full funding in seven months to create Riviera Point Business Center. That's quick timing given the complexities of EB-5 requirements.
"South Florida is a powerful draw for Latin American investors facing economic crisis and political uncertainty in their nations, and Doral has a high profile in Caracas, Bogotá and other key cities," said Azpurua. In addition to developer equity, 19 South American investors are funding Riviera Point Business Center. Under the U.S. Citizenship and Immigration Services (USCIS) program, the EB-5 program allows a foreign national interested in obtaining permanent U.S. residency to do so by investing in a commercial enterprise that generates at least 10 jobs for U.S. workers for two years. The EB-5 Visa then becomes permanent. The qualifying investment for a project such as Riviera Point Business Center, located within a Targeted Employment Area (TEA), is $500,000.
About Riviera Point Development Group
CEO Rodrigo Azpurua, COO Noel Epelboim and their veteran Riviera Point Development Group team are among South Florida's first developers to successfully bring office projects to market as qualified EB-5 investments. The firm recently completed the first of two buildings in its $17 million The Professional Center at Riviera Point in Miramar, which drew 34 international investors, and has closed on a second Miramar site at Southwest 145th Avenue and Southwest 27th Street with plans to begin the 72,000-square-foot Riviera Point Corporate Center with EB-5 funding by fall 2015.
Azpurua, a prominent EB-5 expert, is a frequent presenter at EB-5 conferences in the U.S. and abroad. His development background includes over 1 million square feet of office space in Florida projects, and he authored a book, EB-5 Visas & Real Estate Development, to guide developers through the complex EB-5 process. Epelboim, a 30-year seasoned real estate developer, was a founding member of Constructora Arquinpro C.A. (Caracas-Venezuela) with 50 completed projects to his credit, including over 2 million square feet of high-end condominiums, plus commercial and office buildings. In Florida, he has been responsible for developing high-end condo buildings in Hallendale Beach and Bay Harbor, as well as a strip retail center in Parkland.For information visit http://www.rivierapmo.com and its blog at http://www.solideb5.com.