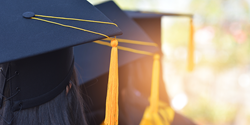 I would not have had these opportunities without the support of RJ Young, both in the scholarship and for my family. – Noah Houck, 2018 Recipient
NASHVILLE, Tenn. (PRWEB) October 04, 2018
RJ Young's John T. Crunk Scholarship Program was established in 2004 to achieve a number of highly desirable objectives. This program seeks to assist the dependent children of our full-time employees with their college expenses. The scholarships are awarded based on the student's academic achievements and activities. The goal for providing these scholarships is simple – to help our employees' children attain the education they deserve, while preventing any financial strain on our employees. Since 2004, the John T. Crunk Scholarship Program has provided over 55 scholarships to our employees' children. We are proud to recognize the recipients of this year's scholarships.
Kimberly Reischman:
Kimberly Reischman graduated with honors and in the top 10 of her class at Mount Pleasant High School in May 2018. Kimberly was a cheerleader all four years, was a member in HOSA, and has been working at JJ's BBQ since the Spring of 2016. She is attending MTSU this fall and is studying Nursing. Her plans are to become a Nurse Practitioner. In her spare time, Kimberly enjoys hanging out with her friends.
Noah Houck:
Noah Houck is a Senior at Austin Peay State University and is a third-time recipient of the John T. Crunk Scholarship. At APSU, Noah majors in Communications with a focus in Journalism. Noah also works for the student newspaper as the sports editor and will soon be taking over the role of the managing editor. Noah's experiences with sports journalism have allowed him to travel and cover sports for his school, while meeting a number of professionals across the U.S.
Kate Eikel:
Kate Eikel is the daughter of Robert and Brandy Eikel and is currently attending the University of Tennessee at Knoxville, where she is studying Materials Science and Engineering. Kate is an active member of the 1794 Honors and Scholars Program, is involved in the Materials Research Society, and serves a mentor for the Society of Women Engineers at UT.
Samuel Eastin:
Samuel Eastin is a Sophomore at Tennessee Tech University. He is currently in the lower division of the Tech Nursing Program and will be applying for admission in December. Additionally, Samuel is very involved in his campus ministry and is leading a Bible study with the residents of his dorm this fall. Upon graduation, Samuel plans to pursue his Master's in Nursing and work as a Nurse Practitioner in Nashville.
About RJ Young  
RJ Young is one of the largest independent office equipment dealers in the Southeast, specializing in document management solutions, managed print services, IT services, and office imaging. Headquartered in Nashville, Tennessee, RJ Young has been in business since 1955 and has over 600 employees in 28 sales and service locations across eight states. Under the corporate tagline "Your productivity is our mission," RJ Young helps modern professionals become more successful in their businesses with solutions to securely manage paper and digital information, maintain vital information technology systems and empower businesses with leading printing technologies. For further information, please visit http://www.rjyoung.com