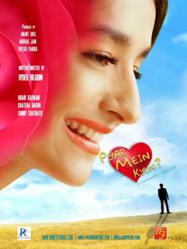 Created by award winning film writer/director Hyder Bilgrami; the movie PMK is a classy romantic thriller with twist and turns that provide drama, entertainment, mystique and a thrilling experience.
New York, NY (PRWEB) September 13, 2012
RKNet Studios and Aary Films will host the USA premiere of Pyar Mein Kyun (PMK) on Tuesday, September 25th─ at SVA Theater on 23rd Street, to celebrate the VIP screening of an extraordinary Bollywood motion picture that is produced in the US for the 700 million English speaking global audiences.
Movie PMK premiere guests, media, and VIP celebrities will be given an evening of fabulous pampering treatment with Red Carpet walk… while photographers take celebrity pictures and 'live' TV shoot of interviews is taking place. Select Hollywood and Bollywood celebrities and our own celebrity cast and crew will conduct interviews with our guests on their recount of the experience at the Red Carpet event. After the Red Carpet walk, guests will enter the SVA Theater for a lavish reception followed by the premiere screening of movie. After the exit interviews, VIP guests are invited to an after event party at Empire Room in the New York City Landmark─ the Empire State Building.
Hollywood movies can take the age old story of love between a man and a woman in the most intriguing and authentic manner; to produce one box office hit after another... then PMK is as authentic in its story and storytelling. It is the story of 2nd generation South Asian love, romance, feminine mystique, and heart wrenching drama between an older man and a 19 year old girl in the globally connected socially networked generation. The story portrays Feminine Mystique: a young girl's journey to becoming a woman and revealing seven different dimensions of her persona [typical of most women] over a short period of time. This gives a new definition to " Faces of Eve"… movie PMK reveals seven faces of Eve, an acting marvel.
The star cast of this much anticipated Hindi movie includes actors Obaid Kadwani and Khatera Hakimi; with Sonny Chatrath, Deena Safi, and Michael Dean in supporting roles. This movie has all that it takes to entertain and captivate its audience in vast numbers… that's our market research talk based on movie Facebook 'Likes' and YouTube 'Views'. We plan to use the Internet, Social Media Marketing, and digital distribution─ to fully realize the potential of this superb movie. Our on-going promotions will target over 100 million impressions globally within the next six months.
RKNet Studio and Aary Film movies are aimed at younger audience worldwide that's looking for more realism and spice from Bollywood. Our films are produced in Hollywood style with Bollywood sensibilities... right here in New York / New Jersey using local resources and talent.
PMK is proudly donating a portion of the net proceeds to the charity project "A Slice of Hope". Reported by TV and radio stations across America; A Slice of Hope raises joy and hope in America's homeless shelters and was founded by Obaid Kadwani─ the star cast of the movie.
Movie Premiere New York City Tickets: http://pmk.eventbrite.com/
Movie Website: http://www.PyarMeinKyun.com
Movie Facebook Page: http://www.facebook.com/pyarmeinkyun
Movie Trailers: http://www.youtube.com/watch?v=jn5iflpypS8
Movie First Look: http://www.youtube.com/watch?v=mg3i5vwwptk
Movie Song Trailer: http://www.youtube.com/watch?v=V2CGgThOcMk
We are so very proud to have the following media icons as our sponsors…

Radio Asia as official Radio sponsor
Sahara One as the exclusive TV sponsor
aapka colors TV Channel sponsor
JUS Punjabi TV Channel sponsor
ITV New York - First Desi TV in the US
Namaste America – South Asian TV Network Sponsor
SAAVN.com as the official online sponsor
BiBiMagazine online sponsor
# # #
Nutan Kalamdani [Publicist]
Cine Views
732-803-4776
Email: nutan(at)cineviews(dot)com