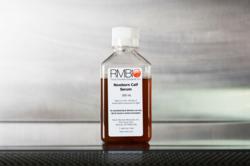 "By maintaining a consistent supply of raw material, RMBIO's Newborn Calf Serum produces extremely consistent cell growth."- Suresh Daniel, CEO
Missoula, Montana (PRWEB) June 06, 2013
To meet global customer demand for ultra high quality serum at competitive prices, Rocky Mountain Biologicals recently began manufacturing Newborn Calf Serum (NBCS). RMBIO's Newborn Calf Serum is produced from raw material that is collected by trained technicians in the US and New Zealand. High quality Newborn Calf Serum continues to be considered as an alternative to Fetal Bovine Serum (FBS), due to increasing prices and supply constraints on FBS.
The Newborn Calf Serum (http://www.rmbio.com/product_information/bovine-sera-and-plasma-products/newborn-calf-serum ) is manufactured at RMBIO's protein fractionation and serum manufacturing and custom filtration facility in Missoula, Montana. The facility allows for production of serum batches of up to 2,500 Liters. According to RMBIO's CEO Suresh Daniel, the industry leading "large lot sizes minimize lot to lot variability. Additionally by maintaining a consistent supply of raw material, RMBIO's Newborn Calf Serum produces extremely consistent cell growth."
The NBCS is offered in various grades including charcoal treated, heat inactivation, gamma irradiation, and PEG treated.
In addition to Newborn Calf Serum, RMBIO manufactures and custom filters other bovine serum products including Fetal Bovine Serum from origins including: USDA approved regions, US, Australia and New Zealand. RMBIO's detailed product descriptions are listed on the web site at http://www.rmbio.com.
RMBIO customers often use Lipogro®, a cell culture grade lipoprotein cholesterol concentrate supplement, to reduce the use of Fetal Bovine Serum and Newborn Calf Serum. Independent studies have shown Lipogro can increase cell culture media effectiveness while reducing operating costs.
About Rocky Mountain Biologicals:
Rocky Mountain Biologicals ( http://www.rmbio.com) is a global manufacturer of high quality, specialized blood products, including lipoprotein and cholesterol solutions, bovine serum albumin (BSA) and sera products. RMBIO's products are manufactured and tested according to GMP requirements. These products are sourced from domestic (U.S.) and Australian/New Zealand raw material for use as cell culture growth factors and diagnostic test materials. These products are used by many of the world's largest pharmaceutical, biotechnology, diagnostic, animal health and research institutions.
Contact for Rocky Mountain Biologicals:
Suresh Daniel – CEO
(406) 541- 7624
sdaniel(at)rmbio(dot)com