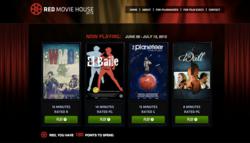 Red Movie House takes us back to a time when taking in a movie was simple and satisfying.

Glenn Hallam,
Founder
Los Angeles, California (PRWEB) July 23, 2012
Remember how it felt to travel downtown to your local movie theater filled with anticipation of discovering what new films awaited? No spoilers, no pre-release merchandise at every turn, and no overwhelming urge to throw up your hands and walk away simply because there were too many choices with non-guaranteed results?
Stanford trained psychologist and new media entrepreneur, Dr. Glenn Hallam, wants to recreate that main street experience with an online social movie theater at http://www.redmoviehouse.com.
"Our society is overwhelmed by choice," says Hallam, "we need simplicity and quality, not thousands of videos to filter through."
RedMovieHouse.com shows just four films each week. The initial films are free and continue to be free if you rate and share them.
Hallam is not the first scientist to acknowledge this view of societal overload. In "The Paradox of Choice: Why More Is Less," psychologist Barry Schwartz outlines his research on what he terms "the tyranny of choice." Having more options is not necessarily better - people can become overwhelmed and dissatisfied when confronted with alternatives, even resulting in opting out of the choice completely in order to avoid making the wrong decision.
RedMovieHouse.com uses themes from a classic movie theater and simpler times - big movie posters, red curtains, and films that play for just a week then change. The lights even go off when the film begins to play. And when the film credits start to roll, viewers are prompted to rate and share the film.
We can't turn back the hands of time, but perhaps the online viewing experience just got a little simpler at http://www.RedMovieHouse.com