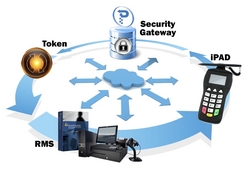 Forget storing cardholder data. Get tokenized!
Portland, OR (PRWEB) February 8, 2011
New West Technologies, an industry leader for mobile retail point of sale solutions, announces the availability of SecurePlus for Microsoft Dynamics RMS IPAD Integration. The product was developed in conjunction with Payment Processing, Inc. (PPI), The integration provides a complete encrypted solution that supports credit, debit, gift and hand-keyed transactions fully tokenized.
New West, leveraging their extensive experience with Microsoft Dynamics RMS customers, worked with PPI to develop the new product utilizing PayMover's advanced security back end including encryption via the Magtek iPad device and PayMover tokenization, eliminating the need to store card data locally for transactions or follow-on transactions. With this product, card data is encrypted at the point of swipe so the application never handles card data "in the clear" and never stores it.
The overall benefit to Microsoft Dynamics RMS customers is a highly secure environment in which only encrypted card data is processed, thereby providing enhanced security and significantly reduced PCI validation costs for retailers.
PayMover SecurePlus for Microsoft Dynamics RMS provides the following features:

End to end encryption of credit, debit, gift and hand-keyed transactions
Supports signature capture and tokenized
Tokenization for follow-on transactions
Free gift card processing
A merchant breach guarantee up to $150,000
Improved hardware installation and handling
Improved user interface for handling split-tender types & returns
Improved merchant setup process
Proven, stable and reliable transaction peripheral at less cost than currently supported unencrypted device
Financial incentives for resellers
Reduced cost for merchant transaction processing
PPI President, Eddie Myers, commented, "PPI, in conjunction with our strategic partner, New West, is delivering the most secure solution on the market today for Microsoft Dynamics RMS customers."
About Payment Processing, Inc.
Since 1995, PPI has been partnering with software developers and their customers, delivering nothing less than robust, stable, fully supported and profitable integrated payment solutions. In 2010, PPI processed in excess of $6.5 billion in Visa® and MasterCard® payments. We provide developers with a full range of in-house services for building and promoting integrated payment solutions, including PPI-developed hosted payment services, integration support, customer support, marketing assistance and PA-DSS/PCI DSS security services. It's why nearly 1,500 partners and more than 45,000 businesses have selected Payment Processing, Inc. as their dedicated payment professionals. Learn more at http://www.paypros.com.
About New West Technologies
Founded in 1992 in Portland, Oregon, New West Technologies is a leading integrator of retail point-of-sale software solutions. As a full-service technology provider with extensive experience in business computer networking and retail software development and installation, we deliver comprehensive, practical solutions that dramatically improve profitability and workflow management. More information available at http://www.newestech.com.
###