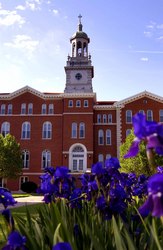 There is a growing need for baccalaureate-prepared nurses and our online degree program allows busy, working RNs to conveniently pursue their bachelor's degrees
Leavenworth, KS (PRWEB) October 22, 2007
Beginning this January, registered nurses seeking to further their careers by earning a Bachelor of Science degree in Nursing (BSN) can do so via a new personalized and expedient online degree program at University of Saint Mary (USM).
"There is a growing need for baccalaureate-prepared nurses and our online degree program allows busy, working RNs to conveniently pursue their bachelor's degrees," said Sandra Van Hoose, Ph.D. Vice President and Dean for Academic Affairs. "The BSN degree paves the way for nurses to continue advancing their careers and professional standing."
Designed and taught by nursing experts, the online RN to BSN degree program can be completed in as little as 18 months and requires no on-campus visits. University of Saint Mary is accredited by the North Central Association of Colleges and Schools.
The online BSN program has five enrollment periods per year. Admission requirements include completion of the online admission application as well as submission of a copy of a valid RN license in the U.S., all official transcripts, a personal statement of goals, and two letters of recommendation attesting to professional and academic performance.
USM boasts a long history of providing affordable, superior quality higher education. Nursing, in particular, has been a cornerstone mission of the school since 1923. The Princeton Review has repeatedly recognized USM, ranking it as a "Best Midwestern College" in 2006, 2007, and 2008, and as one of "America's Best Value Colleges" for 2007 and 2008. USM prides itself on delivering personalized attention to each student, with a student to teacher ratio of 12 to 1 on the campus, one of the best ratios in the nation.
To learn more about the RN to BSN online program at University of Saint Mary, call toll-free 1-877-EARN-BSN (327-6276), or visit the website at http://www.nursing.stmary.edu.
About University of Saint Mary
The University of Saint Mary is a private, four-year Catholic university founded and sponsored by the Sisters of Charity of Leavenworth. The main campus is located at 4100 South 4th Street in Leavenworth, Kan., with additional locations offering accelerated degree-completion and graduate programs in Overland Park, Shawnee, and Kansas City, Kan.
About Compass Knowledge Group (http://www.compassknowledge.com)
University of Saint Mary has enlisted the help of Compass Knowledge Group to market and recruit students for its online programs. Founded in 1993, Compass Knowledge Group, LLC (Compass) partners with higher education institutions to create successful distance learning programs. Compass' industry-leading consultants assess institutional readiness and degree program viability. Using best-in-class marketing, recruitment, and student retention services, Compass introduces degree programs to the world and enables colleges and universities to succeed in the competitive online education marketplace.
###