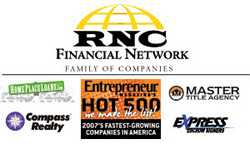 We are honored to be listed among some of the great companies across America - especially those with such a high degree of entrepreneurial spirit
Phoenix, AZ (PRWEB) August 21, 2007
RNC Financial Network, a financial services Company made up of HomePlaceLoans.com, Prime One Mortgage Corp, and Master Title Agency, announced today that it ranked #372 on Entrepreneur Magazine's 2007 'Hot 500' List. The List celebrates the fastest-growing companies in America and the entrepreneurs who started them.
Since its founding in 2000, the RNC Financial Network family of companies has helped thousands of families across the State of Arizona better their financial situation with mortgage loan services intended to meet not only the short-term goals of each family, but to enable them to fulfill their long-term objectives. "We are honored to be listed among some of the great companies across America - especially those with such a high degree of entrepreneurial spirit," says Company Founder and CEO Brian Ramsey. "Our success is directly linked to our dedicated employees' ability to help our clients understand the facts, figures and underlying risks with any available products, as well as to determine when it makes sense to do a loan, or to hold off until it makes more sense. Just because you have an inquiring client, doesn't mean you must sell them something. As long as we stick to those inherent beliefs, we will remain a strong growth company for a long time."
Entrepreneur's Hot 500 rankings are in the August edition of the magazine. They were compiled by assistance from the Corporate Research Board (CRB), a provider of economic and business data, research and information.
Entrepreneur starts with CRB's database of more than 19 million U.S. businesses and only considered companies that met the following criteria:
-Must have been founded no earlier than 1998 and no later than 2002
-Sales in 2002 must have been $100,000 or greater; 2006 sales must not exceed $1 billion
-Must have positive job growth between 2002 and 2006
-Must have a minimum level of sales growth or a sales growth quantifier of 1 or higher between 2002 and 2006; the growth quantifier is a measurement that combines percentage and absolute growth.
According to Entrepreneur, only 0.5 percent of the 19 million businesses currently operating in the U.S. met the qualifications of revenue and job growth. RNC Financial landed a spot on this list out of the 95,000 businesses that met the above criteria.
In the fourth quarter of 2007, the Company expects to expand its business nationally by entering into Minnesota, with a goal to be in at least 12 states by the middle of 2008. The company believes that this type of growth is what will keep them on high-growth lists like Entrepreneur Magazine's 'Hot 500' for the foreseeable future.
According to local publications, RNC Financial Network sports loan origination totals ranking in the top 15 of all loan originators in the State of Arizona.
About RNC Financial Network LLC.
RNC Financial Network is a financial services company comprised of direct lender HomePlaceLoans.com, mortgage broker Prime One Mortgage Corporation, and escrow and title services company, Master Title Agency, Inc. Founded in 2000 by Brian Ramsey and Kim Callan, the RNC Financial Team utilizes their decades of industry experience gathered across the U.S. by delivering customized mortgage loan services including purchase loans, refinancing products, home equity loans, reverse mortgage loans, title and escrow services, and mobile notary services to their clients. RNC Financial and all of its affiliated companies are headquartered in Phoenix, Arizona.
###