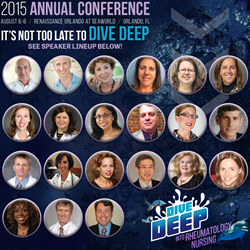 You are invited to Dive Deep into Rheumatology Nursing at the 2015 RNS Annual Conference on August 6-8 in Orlando, Florida.
Greenville, SC (PRWEB) July 03, 2015
Rheumatology Nurses Society has announced the sessions and speaker lineup for its 2015 Annual Conference, the premiere continuing education and networking event for rheumatology nursing, taking place August 6-8, 2015 at the Renaissance Orlando at SeaWorld in Orlando, Florida. Speakers include the leading rheumatology experts in immunology, biologics, biosimilars, lupus, osteoporosis, osteoarthritis, fibromyalgia, Sjögren's syndrome, Raynaud's phenomenon, vasculitis, pain management, vaccines, pediatrics, and more.
The 2015 RNS Annual Conference Sessions and Speakers
» Biologics, Infections, and HIV - Leonard H. Calabrese, DO
» Clinical Pearls for Cutaneous Autoimmune Disease - Ruth Ann Vleugels, MD, MPH
» Gout: Treating to Target and Co‑Managing the Inflammatory Eye Disease Patient - Robert T. Keenan, MD, MPH
» Immunology and Biosimilars - Grace C. Wright, MD, PhD
» KEYNOTE: Inspired Nurse - Rich Bluni, RN, LHRM
» Lab Symposium: How to Interpret, Order, and What Do They Mean? - Eileen J. Lydon, MA, RN, APN-BC
» Lupus 101 - Monica Richey, MSN, ANP-BC/GNP
» Macrophage Activation Syndrome - Kill or Be Killed - Randy Q. Cron, MD, PhD
» Management and Prevention of Osteoporosis - Carol A. Beals, MD
» Oral Manifestations of Autoimmune and Rheumatic Diseases - Vidya Sankar, DMD, MHS, FDS, RCSEd
» Pain Can Be Wicked - Iris Zink, MSN, RN, ANP-BC
» Pain Management: Osteoarthritis and Fibromyalgia - Chad S. Boomershine, MD, PhD
» Patent Pending Products for the Infusion Suite - Timothy R. Walker, RN
» Pediatrics: New Drugs, New Diagnosis, and New Indications - Akaluck Thatayatikom, MD
» Pediatrics: Pain Management - Sharon K. Wrona, DNP, RN-BC, PNP, PMHS, AP-PMN
» Pediatrics: Systemic Onset JIA and Scleroderma in the Growing Child - Cathy Patty-Resk, MSN, RN, CPNP-PC
» Polymyalgia Rheumatica and Systemic Vasculitis: How to Conquer These Mythical Monsters - Rebecca Manno, MD, MHS
» Pregnancy and Autoimmune Disease - Monica Richey, MSN, ANP-BC/GNP
» Preparing Your Professional Portfolio for Certification - Sheree C. Carter, PhD, RN
» Raynaud's Phenomenon: What's Happening to My Fingers? - Christine Stamatos, DNP, ANP-C
» Sjögren's Syndrome - Alan N. Baer, MD
» Vaccines and Our Patients - Elizabeth Kirchner, CNP
This year's RNS Annual Conference is jointly provided by American Academy of CME, Inc. and RNS. American Academy of CME, Inc. is accredited as a provider of continuing nursing education by the American Nurses Credentialing Center's Commission on Accreditation. American Academy of CME, Inc. designates this educational activity for 18.5 contact hours.
For more details including registration, sponsorships, and hotel details please visit RNSnurse.org.
About RNS:
The Rheumatology Nursing Society (RNS) is a nonprofit professional nursing organization formed in 2007, representing nurses who are engaged in clinical practice, education, and research for the care of patients with rheumatic diseases. The mission of RNS is to lead nurses to excellence in the care of patients with rheumatologic diseases. The society is committed to the development and education of nurses to benefit its members, patients, family, and community. For more information about rheumatology nursing, educational opportunities, and the Core Curriculum for Rheumatology Nursing, please signup for NewsRheum™, the official email newsletter of the Rheumatology Nurses Society at http://RNSnurse.org/NewsRheum.